Leasing Consultant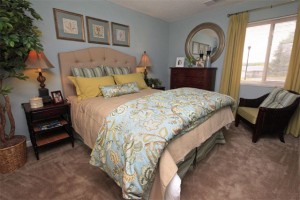 Hirschfeld is looking for a full-time Leasing Consultant for one of our apartment home communities. Our Leasing Consultants are an extremely valuable representation of our apartment homes. You are the face of the community and would be responsible for apartment home tours, processing leasing applications, customer service, and more. The ideal candidate will also enjoy speaking with people over the phone, inspecting apartments, and scheduling maintenance or housekeeping as needed. The most important characteristic for our leasing consultants is that you enjoy working with prospective and current residents while providing a high level of customer service. Often times our leasing consultants are the first and last person our residents work with prior to moving in or out of our apartment homes so you will be a key representation of our brand.
Education/Experience – High School Diploma or G.E.D, Customer Service & Sales Experience, 1-2 years of experience in the industry is preferred
You're good at:
Sales
Multi-tasking, organization, and follow through
Customer relationship management, problem solving, & prioritizing
Bonus Points!
Customer service expert
Enjoy dealing with different situations regularly
Organized & flexible
 As a Leasing Consultant, a typical day might include the following:
Customer Relationship Management

Escort prospective residents throughout the apartment home community, provide tours, general demographic information, as well as discussing features of the community.
Answer multi-line telephone calls and respond to inquiries as well as escalating information to management.
Generate leads through marketing efforts, such as daily follow up with prospective residents.

Administrative

Perform various clerical duties such as figuring rent percentages, typing, entering data into computer, ordering office supplies as needed, etc.
Process rental applications by verifying resident employment, income, prior residences, rent history, etc.
Maintain & submit weekly traffic report regarding all inquiries and responses concerning rental information.
This job might be for you if:
You enjoy working with and helping others. You are patient, levelheaded, and cool under pressure. If you believe anything worth doing, is worth doing right and you are friendly and professional. If you enjoy thinking on your feet and being faced with different situations each day – this could be the right position for you!
To land this Leasing Consultant position you need to have a couple of years of experience, but more importantly; enjoy working with people, and working together across the organization to reach a common goal. The goal is to provide a stellar level of customer service, make sure our residents are cared for and problems are handled in a timely & professional manner, and YOU can be a part of the team to achieve these goals.