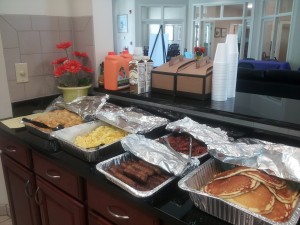 Eagles Walk Breakfast Fun
On Friday September 19, 2014 the residents at Ridge View & Eagles Walk Apartment Homes in White Marsh, MD were invited to breakfast!  Here at Hirschfeld we like to show our residents they are appreciated each and every month.  In September we decided to invite our residents to join us for a FREE hot breakfast here in the clubhouse.   The breakfast for this event included fresh scrambled eggs, delicious French toast, pancakes, hot sausage, potatoes, and fruit.  The breakfast also included a variety of beverages; including coffee, and orange juice.
We had over 20 residents join in the festivities, with the French toast being the biggest hit!  From what we could gather, the morning seemed to include some very happy residents, who were able to take some time for themselves and sit down to a hot breakfast. What could be better than a hot FREE breakfast served to you (no cooking or cleanup required) before heading out for the day?  The team here at Eagles Walk hopes this breakfast helped to start your Friday morning off on the right foot.  🙂  Don't forget to "Like Us" on Facebook to make sure you don't miss our next FREE resident appreciation event.