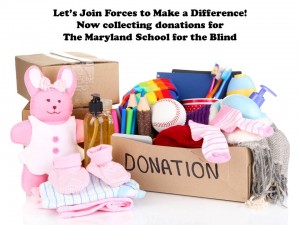 Donations for the Maryland School for the Blind
The Month of November is a month spent preparing for the holidays with family and friends!  It's also meant to be a time for reflecting on all of the things we have to be thankful for.  Often times we find ourselves more grateful, compassionate, and charitable than many other times of the year.  So as we take a moment to reflect on the things we have to be grateful for, let's join forces and also channel this compassion to bring thanks to those in need.
One of our team members at Steeplechase Apartment Homes in Cockeysville, MD had an opportunity to visit the Maryland School for the Blind back in September.  In the month of September we worked to collect school supplies for this school as well.  This school has over 200 students from elementary to 21 years of age.  Some of the families of these students suffer immensely with not being able to supply their children with basic needs like food and clothing; some of the students do not even have families to try and provide these things for them.  So they need our help!  In light of this information and seeing a major need, we would like to hold a resident event that our residents in Maryland can participate in (this means you Eagles Walk, Ridge View, Steeplechase, & Tall Oaks Apartment Homes residents!)  We will be collecting clothing and food items twice during the holiday season.  The first drop off date will be Monday, November 19, 2014 & the second drop off date will be December 17, 2014!
Perhaps, now you are wondering – "How Can I Help?"  We've written another article with a specific list of items they are in need of right now.  Thank you in advance for all of your kindness & compassion.  Together, we can make a big difference in the lives of these students and their families for this holiday season.