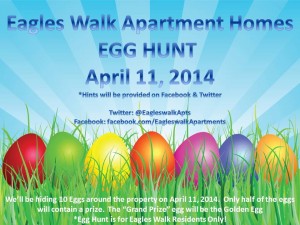 Egg Hunt at Eagles Walk Apartment Homes April 11, 2014
Are you a resident at Eagles Walk Apartment Homes in White Marsh, Maryland?  This Friday, April 11, 2014 we'll be hiding some eggs around the property. Inside some of these eggs will be prizes for our residents to claim; things such as a free carpet cleaning!  So where can you find these eggs?  We can't tell you now, because where is the fun in that?!  However, we can tell you – we will be providing hints for this egg hunt on Facebook & Twitter 🙂  So if you are playing Facebook BINGO with us, you're already familiar with our Facebook page.  If you aren't playing BINGO, what are you waiting for?!
The rules for the egg hunt are simple.  Take a look around your property, and don't forget to search for the "Golden Egg," this will contain the grand prize.  Don't forget to check out the Facebook page for hints & photos of where to look and win yourself a prize!  Good luck all and Happy Hunting!
* This egg hunt is for Eagles Walk residents only!