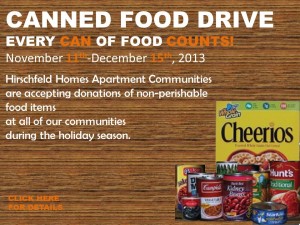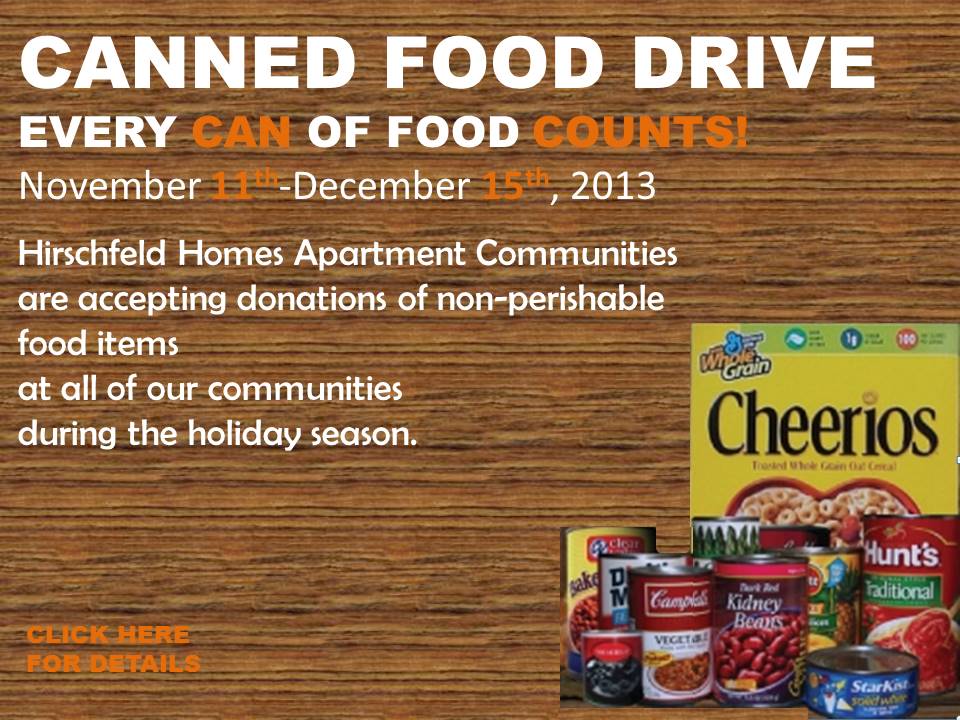 Hirschfeld Apartment Communities Are Collecting Non-Perishables for the Holiday Food Drive
The holiday season is now upon us and Hirschfeld's Apartments in the Baltimore, MD & New Haven, CT areas have decided to team up with our local food banks to help feed those less fortunate.  We feel the best way to celebrate the holidays is to give back to the community.  From November 11-December 15, 2013 we will be collecting non-perishable food items to donate to the Maryland Food Bank & the Connecticut Food Bank.  Please help us give back to those in need by dropping off your donation to the main office during normal business hours.
The Most Needed Items Requested by the Food Banks are:
Canned meat (tuna, chicken, etc.)
Peanut Butter
Pasta
Fruits (canned or dried)
Canned soup
Sauces/ Salad Dressing
Evaporated & Powdered Milk
Infant Formula
Pudding & Custard
Oatmeal
Breakfast Cereal
Rice
Nuts & Seeds
Beans (canned or dried)
Thank you in advance to all of our residents for your donations.  Together we can make a difference!