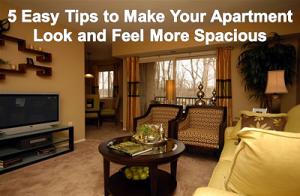 5 Easy Tips to Make Your Apartment Look and Feel More Spacious
Many of us are always looking for new ways to develop more space in our apartments. Of course not only do we look for more space but also a warm and inviting atmosphere to come home to. Below are our easy tips for making the most out of your space!
1. Utilize the magic of mirrors!
Not only do they create an effect of more space in your apartment but they also reflect off the light and decorations in your apartment.  You can use large or small mirrors, vintage or modern, the possibilities are endless. Next time you have an empty stop on your wall that you can't decide what picture to put up, try a mirror.
2. Color is everything!
Of Course lighter colors will make any room look and feel bigger. Did you also know that the colors we choose can affect our moods. For example red has been said to raise ones energy level and lavender can create a calming effect.
3. Be Creative.
Don't feel like you are limited to the same old same old when it comes to decorating. This is your space to make your own.  For example create an organized book shelf under your coffee table or even try putt a wall mount on your TV.
4.  Be Organized
Being organized and creative can often go hand in hand. When it comes to this think outside of the box. Baskets are a great way to organize magazines, books, and small items. They can also fit into small spaces. You can even organize small things like jewelry or keys by placing hooks on the wall to hang the small items.
5. Don't forget your patio or balcony!
This part of your apartment is often pushed to the side as we do not always utilize the space to its fullest potential. This of this space as an extension of your apartment.  Plants are a great way to add life while more seating will bring a homey feeling. There is nothing like sitting on your balcony or patio on a summer night enjoying the sunset.