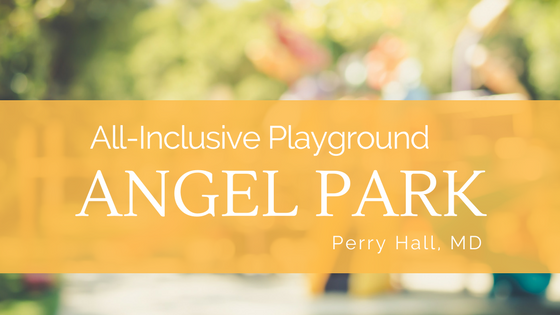 Angel Park Playground at Perry Hall
Imagine a park that's safe and fun for all children, including those with disabilities. Picture a playground where every child can interact and play, regardless of having special needs.  Envision a community coming together to build the wishes of elementary school kids throughout the Baltimore area.
Well, those dreams are now a reality in Perry Hall, Maryland, and it's called Angel Park! 
Angel Park is the largest all-inclusive and accessible playground in Maryland. This amazing play area and amphitheater is a community funded, designed, and constructed project, touching the hearts of everyone in Baltimore County.
What can you find at Angel Park?



This one-of-a-kind playground features a storybook theme, including a fire truck, pirate ship, castle, music stations and tree house. It also includes:
Wheelchair accessible ramps and platforms

A wheelchair-friendly shaky bridge

Static-free slides, to accommodate children with cochlear implants

Therapeutic swings

Braille panel

Handicap-accessible racing zip line

Memorial garden

Art exhibits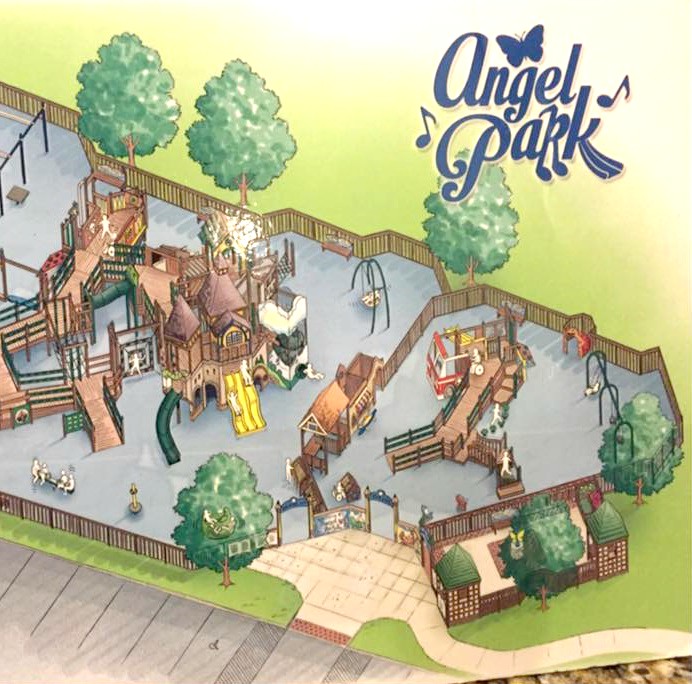 Angel Park Schematic www.angel-park.org
For Kids By Kids
Angel Park incorporates the designs and ideas of local children and artists. Over 4,000 kids ranging from preschoolers to fifth-graders, sketched out and weighed in on what should be built at the park. The official design team took all the ideas into consideration and the park is the result of what the children wished they could see their friends with disabilities be able to do. Plus, 2/3 of the funding comes from the community, making it a generous and inspiring collaboration from our own backyard.
Where is it?



Located next to the Perry Hall Library on Honeygo Boulevard.
The Story behind the Park
After Kelli and Andy Szczybor lost their son, Ryan, to cancer, they were determined to turn their pain into something positive. Ryan was diagnosed with Leukemia at the very young age of 6 months. As an infant, Ryan suffered numerous hospital visits and passed away at only 15 months old. Losing a child is the most agonizing experience a parent can face. Yet, the Szcsybors knew they could take that excruciating heartbreak and transform it into a way to aid and inspire others, as well as honor their baby boy.
On their mission to help families battling cancer and parents of children with special needs, the Szczybors, decided they wanted to build Angel Park. Kelli and Andy had previously been involved in the creation of all-inclusive Annie's Playground in Fallstone, Maryland. Their experience ignited the light to bring that same inspiration to our area.
Angel Park is more than a safe and enjoyable playground. It is a symbol of remembrance and hope. This positive and peaceful area is for all children and families to enjoy, without physical or mental hazards. It provides activities for all accessibilities and is a beacon for those who may feel in the dark. Kelli and Andi Szczybor named the park in honor of all little angels, including their son Ryan, who have passed on.
Check it Out
Hirschfeld is proud to be a part of this beautiful Baltimore community. We hope our residents at Eagles Walk and Ridge View Apartment Homes will visit this exciting playground and take part in this inspiring community.