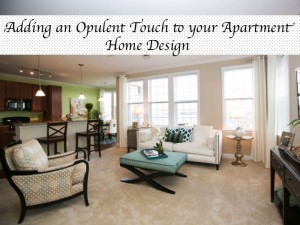 Adding an Opulent Touch to Your Apartment Home Decor
The inside of your apartment can be just as beautiful as any picture you may have seen in a magazine. No matter how big or how small, Castles come in all sizes.
Here are a few ways to update your living space without breaking the bank. To begin with, do not invest in anything you cannot take with you. For instance, installing carpeting or new flooring in a rented space would not be worthwhile; neither would be new windows.  The only exception to this would be paint. Obviously you can't take the walls with you, but paint is fairly inexpensive and makes a dramatic change to a room.  Please check with your apartment home community to understand the rules around painting the walls in your apartment home prior to painting!
Furniture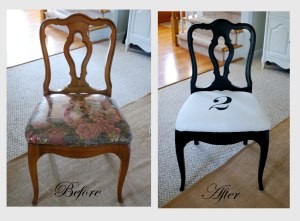 Do you love your furniture?  If so, excellent!  You are off to a great start.  Do you have second hand furniture? Do you have furniture that has been around for a while and you do not want to invest in something new right now? Let's work with what you have! Your existing furniture pieces can be dressed to look nice. There are many slip covers for sofas that you can find within your budget. Need some inspiration?  Check out this site! By the way, the chair makeover you see here is from Pink & Polka dot design, check this site out for TONS of DIY inspiration.  Besides slip covers, throw pillows and throw blankets can update the look of a tired couch. A table can be covered with a tablecloth; chairs can be covered with chair coverings. Let's get that second hand furniture looking first rate. We've created a board on Pinterest where we'll keep adding amazing budget friendly furniture update projects!
Window Treatments
A gorgeous set of curtains will dramatically change the look and feel of a room. For your bedroom go with a heavier light-blocking curtain. These are available in most stores and promote a better night's sleep by blocking out unwanted light from things such as street lamps or headlights. When hanging your curtains, install the rod closer to the ceiling, as opposed to just over the window frame, giving the illusion of height with a floor length curtain. This has a more dramatic and lavish feel.
Bedding
This is the one item that could be worth investing in. No matter where you live now or plan to live, a quality set of sheets and comforter is your present to yourself. Generally a 350 thread count cotton sheet set is an optimal quality. Your comforter should represent you. Choose a pattern that you will be pleased with for years to come. Avoid going with something trendy that you may outgrow quickly. A nice quality comforter is not cheap and you should buy something you will be pleased with. The Creativity Exchange has some great ideas to share.
Do you have any DIY projects you would like to share?  Post them on our Facebook page!
Rugs
Rugs are great at disguising unsightly floors. Rugs aren't limited to just covering wood or laminated surfaces. Step out of the box and place a rug over carpeting. Placing a rug with one edge just under your couch creates a layered look. Rugs also look great under a dining table; it helps to define a space. When you're living in an apartment, rugs can help to outline areas.
Please keep in mind decorating isn't the only factor to a luxury home. Cleanliness is important no matter where you live. There is no excuse not to keep a tidy home. We all know kids are messy, but just letting their paths of destruction reign is not productive. When you get in the habit of cleaning as you go, it is less overwhelming. And when you have a beautiful apartment to show off, let it shine in all of its glory!