Eagles Walk Apartment Homes is Hosting a Community Yard Sale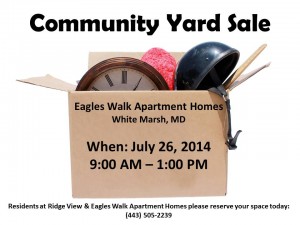 Our residents have been asking for a Community Yard Sale, and here it is!  On July 26, 2014 from 9 AM – 1 PM we'll be hosting one here at Eagles Walk Apartment Homes in White Marsh, MD.  Residents at Eagles Walk & Ridge View are welcome to participate.  In order to participate and sell your items you must reserve your space by July 18, 2014 by calling the leasing office at (443) 505-2239.  Space is available on a first come first serve basis on the morning of the event.  Please bring your own tables, to display your goods.  We are looking forward to a good turnout, and hope to see you all there.  Don't forget to bring supplies or mark the prices on your items in advance.
If you want to sell goods how does this all work?  It's simple, gather the items from your apartment home that you would like to sell, and call us to reserve a space today (443) 505-2239.  Then be sure to bring your own table and price your items accordingly.  The day of the Community Yard Sale see one of the members of our staff and you will be asked to sign in at 8:45 AM  Once you sign in you can set up and the event will be open to shoppers by 9 AM!  All participants will be responsible for set-up and clean-up.
If you don't want to sell but would love to shop – what do you need to do?  Absolutely nothing, show up at Eagles Walk Apartment Homes between the hours of 9 AM – 1 PM to take a look around and bring some money to buy whatever catches your eye 🙂
We hope to see you all there!  Don't forget to Like Us on Facebook for updates on new events (like our Ice Cream Social coming up this month,) and reminders about the Community Yard Sale!
If you missed the event this year, you can read more about it here.