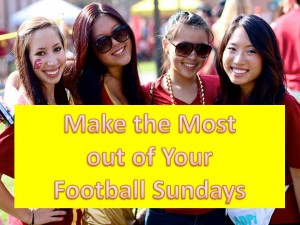 7 Tips to Make the Most Out of Your Football Sundays
Labor Day has passed, summer's essentially (though not technically) over, school is back in session and the leaves will soon be changing. This time of year also means two words that will make men shout and some women shudder: football season.
It's a time-honored ritual, where women characterize men as morons for investing so much time, energy and emotion into what they view as a pointless endeavor: large, barbaric athletes bashing into each other for hours on end.
We certainly understand that not all women feel this way, and there are a large number of you who love football as much as the next guy (and we love that!) However, for those of you who cringe at the thought of football season, hold on, because the truth is you may be missing out on some majorly fun times. Most importantly, you can score some major points with your significant other, who will greatly appreciate your interest in his interest. You know he'll be watching no matter what you do, so why not join in the fun?
Here are 7 tips for you gals out there to make the most of football Sundays this season (if you're not already a fan of America's favorite sport, that is).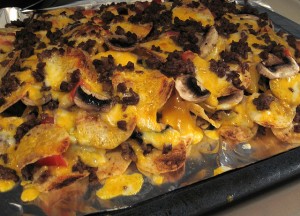 1) Do you enjoy cooking? Whether you hail the Redskins or root for the Ravens, when the hometown team is on local television the possibilities in your kitchen can be endless, and you, your partner, friends and family will get to reap the rewards! Pick up tortilla chips, shredded cheese, guacamole and whatever else you need to whip up home-made nachos. Here is a link to a tasty buffalo chicken dip.  Classic favorites like cheeseburgers and hot dogs can be spruced up with a twist, such as the unique recipes here . If you're the doting type you can serve it fresh to your man while he sinks into the couch, but don't be afraid to ask him to help also! It can become an every Sunday routine, choosing and preparing a new meal each week. You may not love the sport just yet, but everyone loves to eat, and football and food go hand-in-hand.
2) If you or your partner roots for a team not normally shown in the Baltimore area there are a host of great bars to choose from that air every game, every week. It will be a little more expensive but it's also a great opportunity for you to get out of the house, sample various local bars and restaurants, mingle with fans of your team as well as other squads and revel in an energetic atmosphere. Here is a link to some of Baltimore's best sports bars.  Be sure to call ahead of time and ask about food and drink specials!
3) Placing a small wager is a great way to spice it up! Simply picking opposing sides against your partner can enhance the experience. Use your imagination: loser does the dishes, winner gets to pick what movie you watch tomorrow night…the possibilities are endless! Fantasy football is also a great way to add some interest. Remember, there's a lot more to enjoy than what you may see at face value.
4) Head over to M&T Bank Stadium and catch a Ravens game live! Depending on the opponent, time of year, weather, where you want to sit and a host of other factors, tickets purchased from secondary sources such as Stubhub.com can be quite affordable. It can be a truly exhilarating experience to watch a game with 70,000 cheering fans. Pack the car with burgers and beverages, get to the parking lot early and tailgate to make the most of your day. Invite family and friends and make it a communal affair.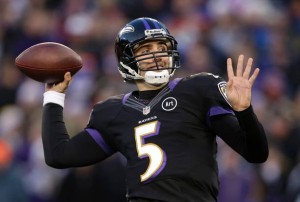 5) Get to know the players on your partner's favorite team. Now, that's not to stay you need to know the names and backstories of the entire roster, but being able to recognize the key participants from week-to-week will establish a sense of connection that leads to a more enjoyable viewing experience. Cheat sheet: the Ravens' quarterback is named Joe Flacco. Oh, you knew that already? See, you're already on your way there! You can check out the rest of the Ravens roster on their official team website.
6) Dress the part! If you love fashion, there exists a huge range of jerseys, jackets, hats, shirts, and accessories you can mix and match to turn yourself into the best-dressed fan wherever you're watching. Whether you're a fan of purple and black or burgundy and gold, or any other squad, there will certainly be no shortage of options. Look for scarves and wool hats as the weather gets chillier, but for now short-sleeved jerseys of you or your partner's favorite player is the way to go. Take a look inside the Ravens team store.
7) Cheer loudly. Scream your head off. Even if you don't understand the ins and outs of the game, basic concepts like turnovers, first downs and touchdowns are easy to understand, and when they happen for the home team it's a great reason to let loose! This works best if you're in a crowded bar that's predominantly rooting for one team, but heck, you can just as easily raise the roof at home! It does help, of course, to have at least one buddy there to high-five.
Follow these steps and you may find that you've been missing out on a lot of fun all these years! The season starts tomorrow, so there's no time to waste. If nothing else you'll get some great meals out of it!