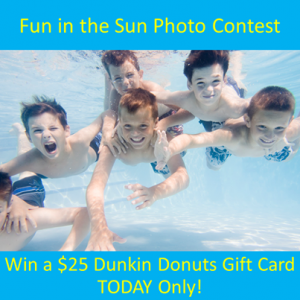 Fun in the Sun Photo Contest
Submit your Photo *Today Only* of your Summer Fun!
We know it's cold and snowy but we want to remind our residents – it won't be like this forever! So in order to help us all think about warmer days in the sun, we're holding a contest (for a $25 gift card for a hot cup of coffee/ tea/ or hot chocolate at Dunkin Donuts!)
Post your best photo from the Summertime to our Facebook page! Dig through your archives, search through your phone, and post a photo to our pages that will remind us all of warmer days!
We CAN'T WAIT to see them! The photo with the most "likes" by the end of the day will win a Dunkin Donuts gift card.
Let's see those photos!!!!!! 🙂
*Facebook and Dunkin Donuts are in no way associated with this contest, and this is for residents only! We just thought it would be a fun way to pass the time on this snow day!