A Personalized Monopoly Board for Your Game Board Fan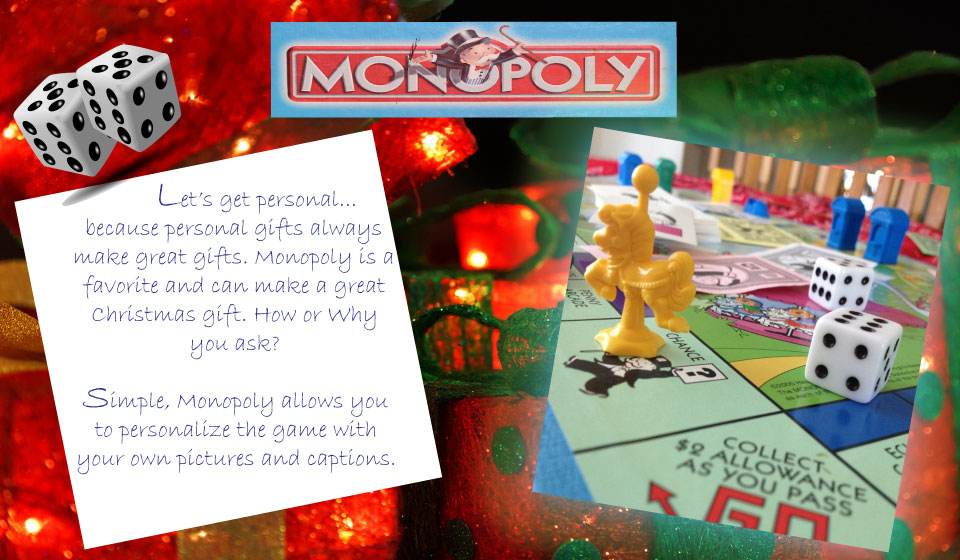 Are you a board game fanatic? Or do you know someone who LOVES board games? Well then this blog is the perfect guide to help you make your own customized board game, but not just any board game…I'm talking about Monopoly. Yes, Monopoly! It is so much fun! Everyone always wants to buy Park Place and Broadway (the most expensive property a person can own), that's of course if you are playing the original game of Monopoly. Times have changed though, and there is more than one version of Monopoly. What's even better is that Monopoly is now available for personalization, in which you can add your own pictures and captions. Talk about a personal Holiday gift! So how do you get started in creating your own Monopoly? Simple, head over to the Monopoly website seach for My Monopoly Game and check which stores near you have it in stock or where you can buy it online. Then go to www.mymonopoly.com to begin creating your own unique Monopoly board game that only you will have! You get to choose which pictures you want to choose and if you want to caption them. The site provides you with instructions as to how start your Monopoly board, so that you won't be lost on how to begin. So who doesn't like Monopoly? It is an interactive game that you can play with up to four people. It can get very competitive, so remember it is just a BOARD GAME. Have fun with it!
This great gift idea was brought to you by your friends here at Hirschfeld!