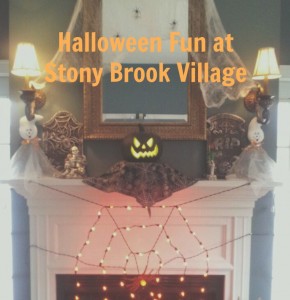 Halloween 2013 at Stony Brook Village
Halloween 2013 here in Connecticut was a beautiful, and unseasonably warm fall day this year. Here at the Stony Brook Village Apartments our team had a wonderful time decorating the leasing office for all of the fun!  The decorations were in preparation for our "Spooky Brook" Halloween Party.  We may have gone a bit overboard, but we wanted to be sure everyone had a great time.  The leasing office was covered with ghoulish and fun decorations; including a talking pumpkin, spiderwebs, skeletons, tomb stones, and of course lots of black and orange balloons for the kids.  Our team was pretty excited to share in our efforts with our residents!
The costume party was soon to begin so we set out the food; which included a full Halloween spread:
Snake shaped Pizza Bread
Mummy Wrapped Hot Dogs
BOOlogna finger sandwiches shaped like bats, pumpkins and ghosts
Munchkin Donuts
Home-made Halloween Cupcakes
Pumpkin Cheese Balls
Lots of Cookies & Candy
Apple Cider
Dog Biscuits for our 4 legged attendees
We also set up all of the games for the kids:
Pumpkin Decorating
Candy Corn Bowling
Pin the Nose on the Pumpkin
Stony Brook Village was all set to surprise our residents with all of the fun we had in store.  However, it was our team who was in for the biggest surprise… the costumes from our residents this year were AMAZING!!!  We had a costume contest planned for the day too, but it was definitely difficult to choose a winner from all of the great costumes we got to see throughout the event.  There were even a few pets dressed up for the party!  Our winners included:
Adult Costumes – A cloaked vampire and a great Witch costume
Children's Costumes
– Dorothy from the Wizard of Oz – Most Traditional Costume
– Home-made Pac-Man Costume – Most Original Costume
– Grim Reaper – Scariest Costume (in fact we never found out his name because he never once took his mask off – but he sure was scary, he's standing in front of the window behind the food table in the photo below!)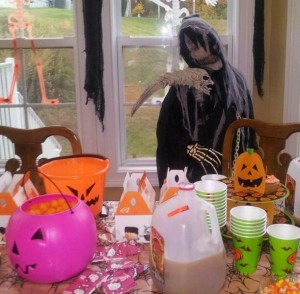 Our team had an amazing time, as did our residents and we would like to thank everyone that was a part of such a great day!  We are looking forward to our next event in November and hope to see you there!