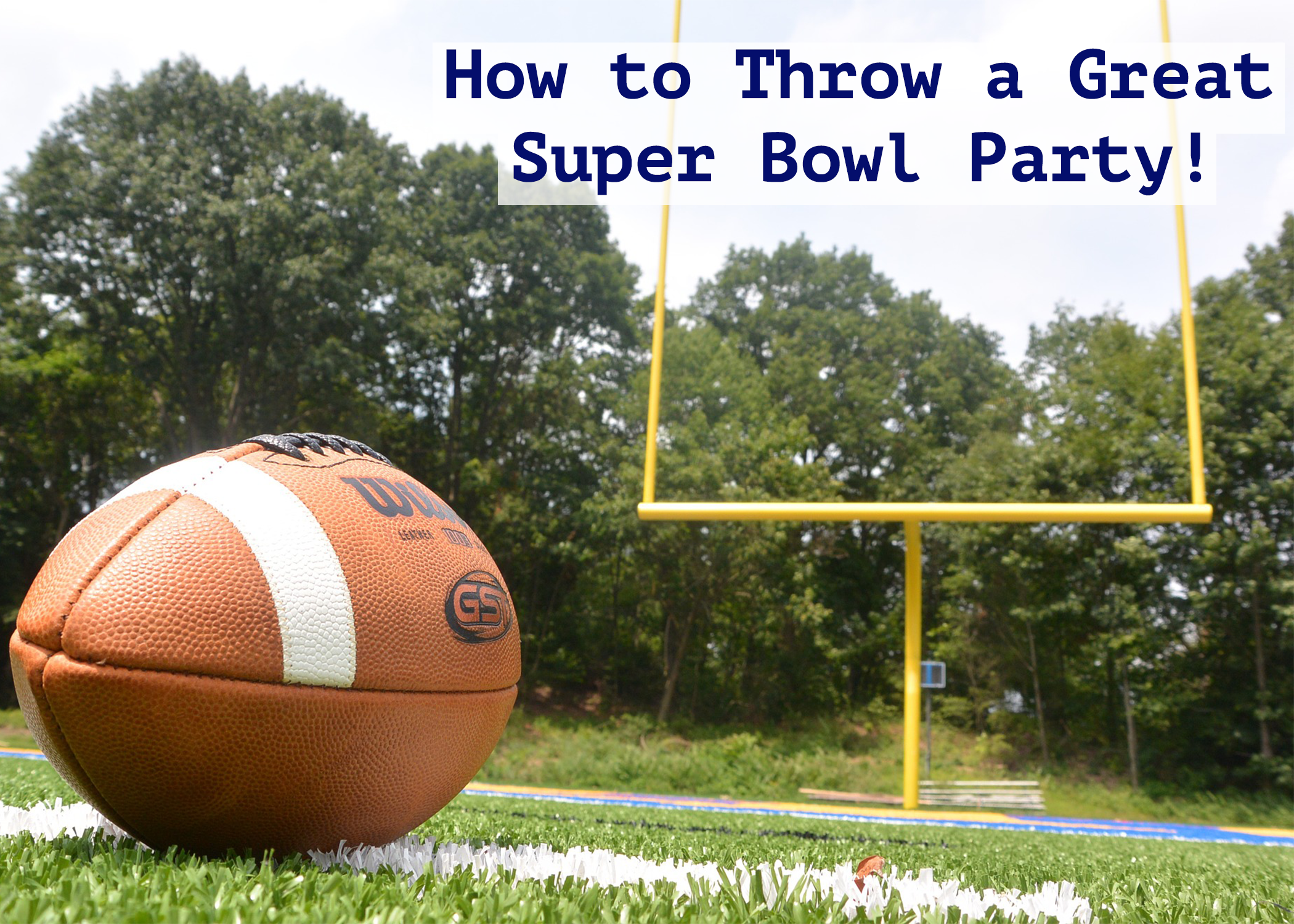 Create the Perfect Super Bowl Party
So, maybe your team is in the super bowl, or maybe they are not; either way, it's still a great excuse to have some friends over to your apartment for football and food!
If you have decided a get together for the big game, you're in luck. In this article, we share tips and tricks to help you throw a great super bowl party!
How to Throw a Great Super Bowl Party
Tips for your Home
The first step to enjoying the big day is to plan ahead. Sure, you can do everything the day of the game but do you really want to have to spend your party in the kitchen? Not to mention all of the hours after the game doing dishes and cleaning up.
Assess the space available for your party. If you want to host a party be sure to consider in advance how much space you have available and how many people can comfortably join you to watch the game. No one wants to be in a crowded room, people need space to express their sentiments towards the game. Let's be honest, no one wants to get hit in the face by accident so keeping a safe distance is a good idea for all of your guests. Also, can you move furniture to make it more accommodating? Rearranging your furniture so that it's away from the action will ease your mind in knowing your furniture won't get damaged or ruined. Are you able to bring in some folding chairs, or even big pillows to enable some lounging on the floor? Once you realize how much space you have available, you can start on your guest list. So call your friends and family and get ready for the big day!
Have cleaning supplies nearby! Yes! Accidents happen and having cleaning supplies close by to clean up the mess can be helpful and beneficial so that no one slips or causes an even bigger mess. It can be a real inconvenience to have to go looking for cleaning supplies to clean. So have them handy to help you have more of a stress-free party. (Bonus tip: let your guests know where the cleaning supplies are so that they can clean up their mess so you don't have to worry about cleaning. It's an extra helping hand).
Pick a team. Yes, picking which team you're rooting for will help you decorate your home with those colors. You want your home to look festive and let people know where you stand in regards of who you want to win. After all, it's not very likely that all of your friends will be rooting for the same team (but if they are, then lucky you!).
Food and Drink Tips

Let's talk snacks. Snacks keep your guests entertained and well it's what you eat before you actually have the main course (in this case it's usually wings). When choosing snacks, make sure that it's something that almost everyone will like so that you are not left with a bunch of untouched snacks (Bonus tip: keep snacks all around so that they are visible and reachable for anyone who chooses to have some.)
If possible avoid sauces or dips, this could cause a mess in your home. Why? Well, because sauces spill and dip drip. But if you do decide to opt for this choice then make sure plates are available for people so that they can pour some on their plate. This will help prevent people from scooping up and either spilling or dripping on your floor or furniture.
It seems that Wings are the go-to food for football games, so it only seems appropriate to have some. There's something about eating food with your fingers and being messy that makes people enjoy the game better. Oh yes, don't forget the celery! Those two just go together.
Want to serve something other than wings? Sure why not! If you choose to do so, go towards finger food to avoid big messes. So serve food such as burgers, hot dogs, french fries, pizza, sandwiches, and tacos, which are easy to pick up and eat while moving around. After all, who doesn't love variety!
Be sure that beer is not the only beverage you offer at your party! Be sure to stock up on soda and other juices your guests might enjoy. Providing your guests with options is key in having a successful party. It is also important to remember that not everyone will want an alcoholic beverage.
Have an idea of what you would like your guests to bring. Most people when invited to a party will ask you what they can bring in order to help. So think about this for a minute. If your best friend makes a great and incredible taco dip that you would love to have, ask her to bring it. If your brother in law isn't much of a cook, perhaps he can bring some of the drinks.
Party Supply Tips
Plastic, Plastic, Plastic! No, this isn't good for the environment, no, this isn't always budget friendly; however once in a while it is just necessary. In an effort to simplify your day (fewer dishes, less cleanup time, more time with friends, etc.) Check out your local dollar store, or discount store for inexpensive items (even some inexpensive plastic bowls for chips can be found for little money and at the end of the night you can decide if you want to keep it or throw it away.)
Have you ever used those disposable Gladware containers? You may want to stock up on another set or two of these, so you have containers for all of your leftover food. Also, if you send leftovers home with your guests you won't be devastated if they are not returned to you. Don't forget some plastic table covers for easy cleanup, and less messy spills.
Make Beverages Accessible. This one is for your sanity as well as your guests. Super Bowl Sunday often includes quite a few beers or even lots of other drinks to go along with the snacks. So be sure to set out a cooler, or stock your fridge, or if it's cold outside and you live in one of our apartment homes you can set your beverages out on the balcony. Just be sure to inform your guests where they can find their favorite beverage, and you will be off the hook for the rest of the evening.
Have garbage bags available at a designated area so that people know where to throw out their garbage. Have more than one garbage can available for people to use, you'll be surprised at how quickly they can fill up. This will avoid any garbage can from over filling and spilling over the floor.
Extras
Play BINGO to make the game more exciting for those who may not be total football lovers. For those of your guests who are most excited for the commercials, this may help make the game more exciting. Bonus points if you pick up a small prize for the winner!
Have fun!  Remember, you have planned ahead and are ready to go, so crank up the music before the game and during commercials, enjoy the delicious food and great friends.  You have earned it!
**Important: Please be careful when hosting parties, make sure your guests are able to get home safe and if needed call a taxi for those who are not okay to drive. We at Hirschfeld Apartment Homes want everyone to get home safe and sound without any problems. Safety is number one!**