Baltimore Memorial Weekend and Summer 2015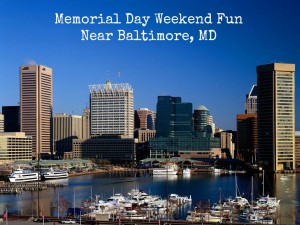 It does not matter if you are residing in one of Baltimore's apartments or just visiting for the summer – the Memorial Weekends always promises an excellent 48 hours for anyone who decides to be part of the festivities. Last year, Baltimore delivered a spectacular show and this year they will be offering more. The following are some of the events and activities you can look forward to with Memorial Weekend 2015.
Chesapeake Beach Stars and Stripes Festival
This event is scheduled for May 23 to 25, giving visitors a chance to find out what Memorial Weekend is really about, by "Honoring Our Fallen Heroes."Launching the memorial event is the first lady of Maryland, Yumi Hogan. Her speech will be followed by a show from The Hubcaps and various other activities meant to keep everyone in the family happy.
If you are a music fan, checking out the Baltimore Rock Opera Society should be a treat for your ears. This year, BROS and Creative Alliance joined together to bring you some of the most amazing performances meant to rock Maryland right off its axis. Unlike other Memorial Weekend events, this is supposed to run for two solid weeks, starting from May 21 up to 31 so if you can't make it this weekend, you still have time.
Maryland Zoo
We have mentioned this fun event before, activities here are scheduled for May 23 and 24 – but it is not what you think. Dubbed as "Brew at the Zoo", this yearly event lets visitors sample as any beers as they want from local producers. Get a little tipsy with offerings from some of the best breweries including Monument City Brewing. Of course, what is beer without a little food? You will find that there are also a lot of nibbles on offer so that beer can wash away tasty morsels.
For those who are not really keen about going to the beach, joining the DelFest would be your next best bet. This one will require you to travel through the opposite direction of the beach – which means as little traffic as possible. In DelFest, you can look forward to a one-of-a-kind bluegrass festival, surrounded by woods instead of sand and water. The festivity is no different, however, as you will be exposed to some of the most amazing musical shows possible. A full-fledged fair, the DelFest is a family event with food, shows, drinks, music, and a playground for the kids.
National Memorial Day Parade
This one is all about tradition and as part of the festivities, it only makes sense to show up and join in this wonderful moment. The National Memorial Day Parade will be held in the National Mall and is actually the biggest event for MD. This was started in the year 2005 with the American Veterans Center in charge of organizing the event. A broadcasted event, the parade is the nation's salute to all the fallen heroes of the United States, both past and present. This one is set for May 25 at exactly two in the afternoon.
McVet 5K and 10K
This is an annual event and for the year 2015, this will actually be the 20th time the activity will be held in Maryland. As the name suggests, this is all about running a marathon with two different categories: 5K and 10K. If you happen to be looking for a good workout during your Maryland visit, this is definitely the event to be in. The 5K and 10K run is a non-profit race meant to benefit the Maryland Center for Veterans Education and Training. The run starts at War Memorial Building and takes you all the way through the city – definitely one of the best ways to tour Maryland on your feet. Obviously, finishers will be getting some loot in the end including medals and cash prizes for a select few.
The Color Run
If you are not really keen on joining the McVet 5K and 10K, you can always be part of the Color Run. This one is aptly named because while you start running all over Baltimore, you will be pelted with colorful paint bombs and glitters – giving you that distinctive shine while you take an on-foot tour. Definitely a fun way of exercising, the Color Run only has a 5K category and is meant to benefit pediatric oncology patients through The Cool Kids Campaign.
This excellent event is meant for children ages 6-12, and is really something to look forward to. Guarding the Railroad is a hands-on experience, here the kids can wear uniforms and play with some of the items used by guards during that historical time. Essentially, it is a historical lesson on what it was like during the Civil War when railroads were still a new technology. Strictly a safe playtime experience, the kids will be learning all while they are having fun.
No – that is not a typo. The Good Life event is really a "feast-festival" because you will be part of a group of people enjoying some of the most amazing food and best tasting wine. This one is a little far off the beach, but you will still be able to find ample socializing opportunities whether you are with friends or with family. Check out the landscape and see something more of Baltimore besides the beaches.
Any Beach – Really
Of course, let us not ignore the lifeblood of Maryland, Baltimore – the beaches and all the events typically scheduled around this location. Any beach in the city is a prime place to be so just pick a spot and go there. Remember to be prepared though and with MD lasting for a good long while, you can jump through different beaches and find out what the festival is really about.
Other events you can check out include: Part on the Point, Sowebo Arts and Music Festival, and Memorial Day Murph Challenge.
Just a quick reminder: with the Memorial Weekend such a popular event, studies predict that this would be one of the busiest ever. This means traffic, – lots of it. Unless you already reside in one of our apartment homes near Baltimore, MD; it is best to get there early and fully enjoy the activities.