15 Must-See Movie Premiere Dates for 2016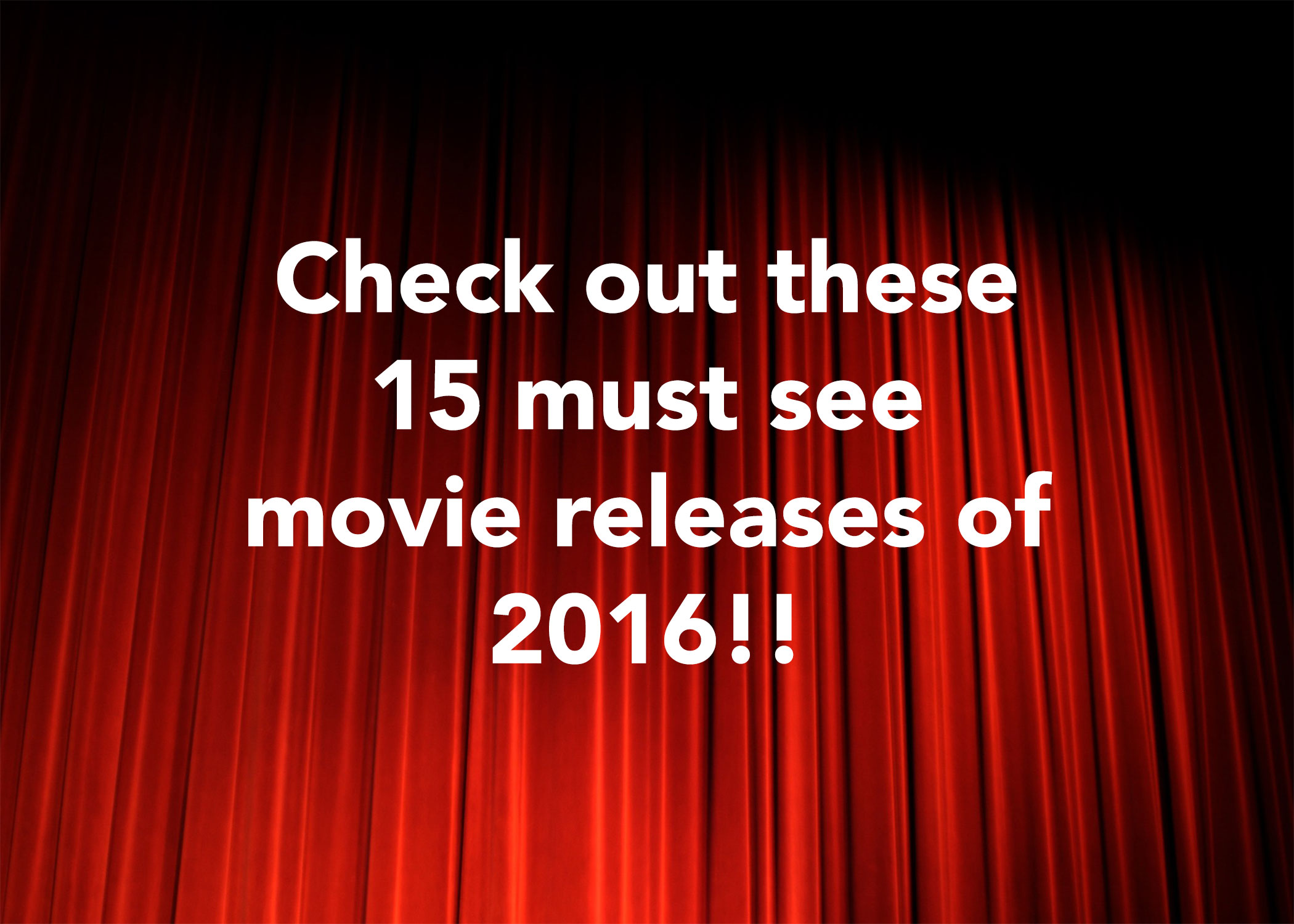 Yes you have probably come to terms with it and time does fly and we are already in 2016!! What! 2016?! Where has time gone?? Moving on, we thought that we could help you ease your transition from 2015 to 2016 by letting you know what movies will be coming out in 2016 so that you have something to look forward to. (Psst…You can also start making plans) So let the Movie bonanza begin!! Dun Dun Dun (Drum roll)
Deadpool February 12, 2016, Ryan Reynolds stars in the heavily anticipated, Marvel comic "Super Hero!"
Batman vs. Superman March 25, 2016, This is sure to be interesting since Batman will be played by Ben Affleck which he has never played before, along side Man of Steele Henry Cavill as Superman.
The Divergent Series: Allegiant March 18, 2016, This is such a good series that you have to watch for yourself to know, Shailene Woodley has been amazing in this film series so far.
The Boss April 8, 2016, If you don't already know Melissa McCarthy, then you should watch some of her movies; she is sure to make you laugh. Almost anything with her in it is sure to be comedic.
The Jungle Book April 15, 2016, An interesting spin on this formerly animated classic, here is the official movie trailer.  This new movie stars Scarlett Johansson, Christopher Walkin, and more!
The Huntsman April 22, 2016, Have you watched Snow White and the Huntsman? If you haven't yet and want to watch this movie;  you should do it soon, so that you can have a little bit of a background. After all, it is somewhat related to it, minus Snow White but this one does have Chris Hemsworth.
Captain America: Civil War, May 6, 2016 If  you liked Captain America and Iron Man then you will definitely want to catch this in theaters.
Neighbors 2: Sorority Rising May 20, 2016 – Seth Rogan, Zac Efron, and Selena Gomez lead to more neighborhood comedic antics.
Alice in Wonderland: Through the Looking Glass May 27, 2016 Yes, finally a sequel to the Alice in Wonderland movie that came out in 2010.
X-Men: Apocalypse May 27, 2016 If you are an X-Men fan then make sure you save the date.
Finding Dori June 17, 2016, The much anticipated follow-up to the classic "Finding Nemo!" If you loved watching Finding Nemo and loved Dori then make sure you check this movie out to find out more about Dori's story.
Tarzan July 1, 2016 This is a Disney classic, so make sure you catch this remake in theaters.
The Secret Life of Pets July 8, 2016 This movie looks so funny (seriously take a look) Secret Life of Pets? I'm sure that for those of you who own pets at some point have thought about what your pets do when you're not around.
Ghostbusters July 15, 2016 Yes! This is the remake from the original Ghostbusters that came out in 1984 with a comedic twist! Such a long time! The difference, the new Ghostbusters 3 includes Melissa McCarthy, Kristen Wiig, & Bill Murray is back. Who you gonna call???? So if you're a fan make sure you save the date!
Suicide Squad August 5, 2016 If you are into superheroes and villains then this movie is for you. Yes, the joker is featured in this movie who is played by Jared Leto, lead singer of 30 Seconds to Mars.
Wow! What a list!! So many good movies to go watch! And not to mention that some of them are remakes! So make sure you write down the movies you want to see and when they come out so you don't miss out! Make sure you check out our blog for more interesting and informative topics!