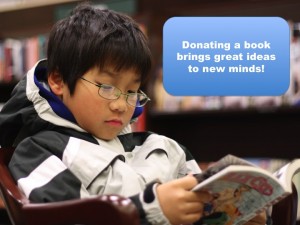 Donate Your Unwanted Books Today
Our apartment home community Stony Brook Village in New Haven, CT is collecting books for the East Haven Hagaman Memorial Library.  Do you have newer and unwanted books?  Would you like to declutter and donate these books to a good cause?  Help us give back to the community!   We believe donating books brings great ideas to new minds.  So how can you get involved?  It's simple!  Gather your unwanted books in your apartment home (feel free to ask friends and family if they would like to donate too) and bring these books to the club house.  We'll be collecting books we will deliver them to the East Haven, CT Hagaman Memorial Library.
The library is asking for books in good condition (please no yellow pages, dusty, or moldy books) and that they are no more than 3-4 years old.
THEY LOVE CHILDREN'S BOOKS!
So please bring your donations to the club house and let's all give back to the community together!  We look forward to any contributions you can make.