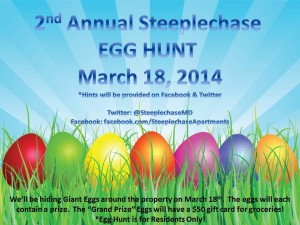 Our 2nd Annual Egg Hunt at Steeplechase Apartment Homes will take place on March 18th! 
One of our most fun activities of the year is right around the corner.   Our Steeplechase staff will be hiding giant eggs around the property with prizes hidden inside.  This year our "Grand Prize Egg" will have a $50 gift card to the grocery store, did we mention there will be 2 Grand Prize Eggs?! The other eggs will hold surprises for you to find once you discover the egg.  All you have to do is get out on the property in the morning of March 18th, and start hunting for your eggs! Once you have found your egg, go to the Clubhouse to Claim them.  This contest is for residents only.
Don't forget to check our Facebook page, (and "like us" if you haven't already) and follow us on Twitter  (@SteeplechaseMD) for hints as the contest takes place!
Tweet your way through the Egg Hunt with Us! #SteeplechaseEggHunt   #GrandPrizeEggSteeplechase  #SteeplechaseWINNER
*Facebook and Twitter are in no way associated with this contest, we just think it's a great way to have fun with our residents.