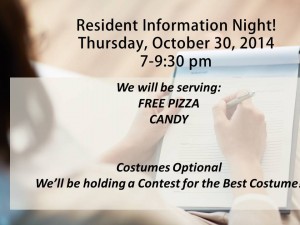 Tall Oaks October Events
Tall Oaks Apartment Homes in Laurel, MD is inviting our residents to join us tomorrow, October 30, 2014 from 7-9:30 pm for a combined Resident Information Session & Halloween Party.  During the event we'll be serving free pizza & candy and costumes are welcome!  We'll even be holding a costume contest for best costume!
Our team will be sharing safety tips, rules for Trick or Treating and also providing you an opportunity to meet some of your neighbors or visit with those you already know!  So if you are a resident here at Tall Oaks Apartment Homes, come and join us!  Please RSVP with us on Facebook so we know how much Pizza and Candy to have on hand!
Also, if you are unable to make it tomorrow please remember that Friday is Halloween and residents are welcome to trick or treat here.  However, if you wish to not be disturbed by Trick or Treaters this Halloween, please put a sign on your door asking "Do Not Disturb." If you are planning to Trick or Treat door-to-door on Friday please remember all Trick or Treating needs to be over by 8p.m.
See you tomorrow!