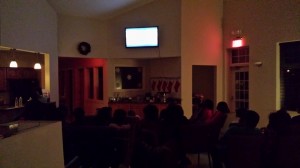 Dinner & a Movie Night at Tall Oaks Apartment Homes was Great!
On a chilly, but crystal clear evening in December over 30 of our residents decided to join us for a night among their neighbors.  It seemed our residents were in need of a night of relaxing, laughing, and enjoying the night off from making dinner!  The team here at Tall Oaks had a blast as well and also appreciated our night off during the busy holiday season.  Dinner & a Movie Night started out with pizza & drinks for everyone; followed up by candy & popcorn to munch on while we laughed at Tim Allen's antics in the movie "The Santa Clause!"  The highlight of the night had to be seeing our residents (many of which had never met each other,) share in a movie, and leave as acquaintances or even friends!  It was a treat, and a wonderful way to celebrate the season!
We are really enjoying planning our resident appreciation events each month, and since this one was such a hit – check back for the date and time of our next Dinner & a Movie Night!  Have you attended any of our r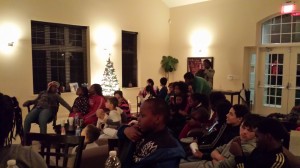 esident appreciation events yet?  What are you waiting for!
As a reminder to our residents, our resident appreciation events are offered monthly and are FREE of charge.  Please keep checking our blog and Facebook Page for the next planned event.