Resident Awareness Night at Tall Oaks Apartment Homes
Sunday, May 25, 2014
We are in the home stretch of Spring and that means Summer is right around the corner!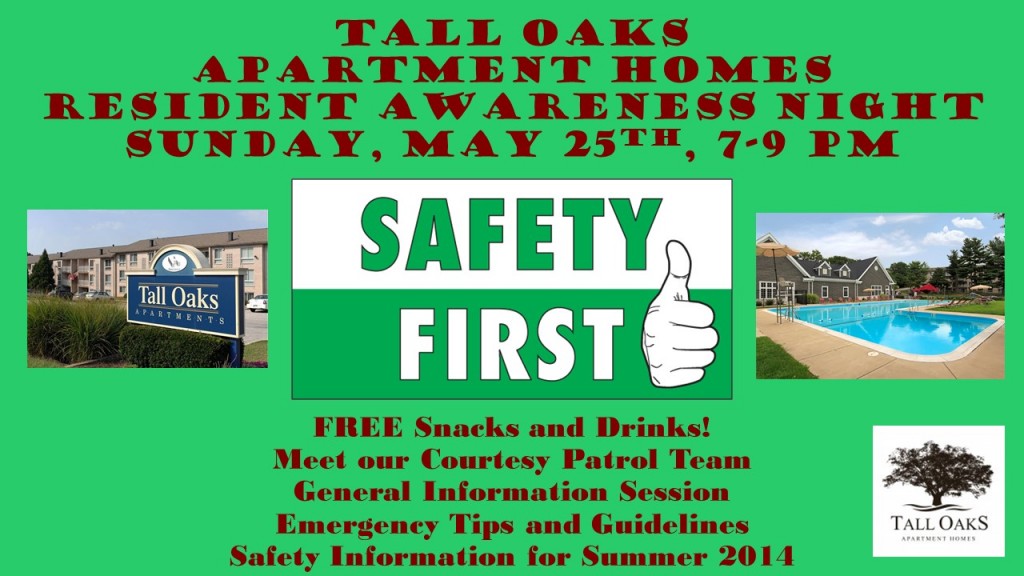 We want to take the time to invite all of our residents to attend our "Resident Awareness Night"  being held on Sunday, May 25, 2014 at the Tall Oaks Clubhouse from 7:00 to 9:00 pm. This is a very important event that will be focused around the safety of our residents here at Tall Oaks, and FREE snacks and refreshments will be served. In addition to receiving important emergency information, our Courtesy Patrol team will be on the premises to offer some invaluable insight on Summer safety including pool use tips.
Below are some highlights of the agenda for the event:
General information session for Tall Oaks Apartment Home Residents
Emergency information tips and guidelines
Meet the Tall Oaks Courtesy Patrol team
Safety information for Summer 2014 including pool use tips
We hope to see you at "Resident Awareness Night" as this will be a great learning experience for all of our residents who attend, and please spread the word to all of your friends and neighbors who are part of the Tall Oaks Apartment Homes community.