We Love and Believe In Baltimore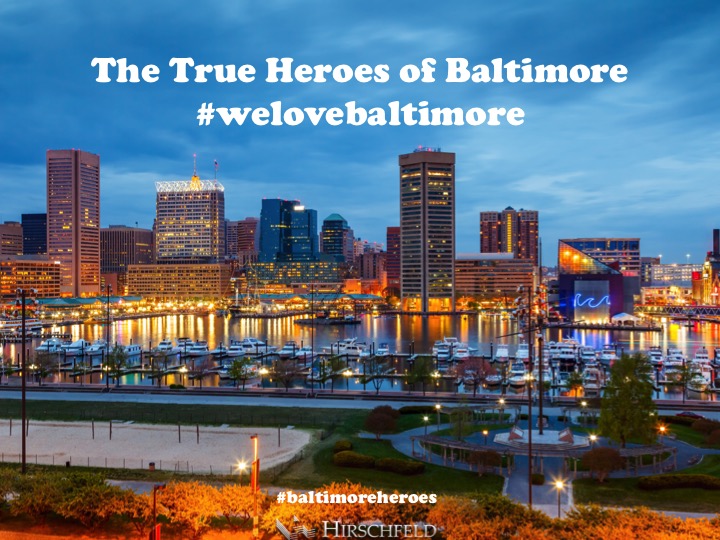 There are so many wonderful things happening in Baltimore now and we want to help shed some light on the fabulous people of "Charm City."
The good news, no – the great news, is that immediately in a time of need, the inspiring people of Baltimore have sprung into action and organized citywide volunteer efforts. In fact, the morning after the April 25, 2015 Baltimore riots the community joined forces and the volunteer efforts were already underway. You can see some great photos of these efforts here.
Or perhaps more photos of inspiring community members, here . If you would like to jump in and join forces, you can find out where your help is needed and get involved too.
Perhaps we can't fight the media, and that's not our goal here, but we can share what we see, a city of strength and pride, where over 10,000 people join together in peace to protest.  One local news station (WBALTV) reports a city where members of the community join together and dance to spread smiles and joy throughout Baltimore; where family members and children watch with pride and joy.  Quoting a local Baltimore resident as saying "that's not everybody, THIS is Baltimore City" as her fellow community members danced in the streets, and families gathered to watch, and peace is felt be all. Baltimore is showing the world what an amazing and inspiring city they are and joining forces with one another in order to do so with grace, style, and peace.
Thinkprogress.com also shares stories worth hearing, in their article titled, "The Side of the Baltimore Protests You Don't See."  This article shows stories of a drum line, roller disco, and even a dance-off.  They have some pretty inspiring videos too.
Perhaps you have heard the stories about the way first responders have been treated, and if you are listening to much of the media you hear the bad news. Have you heard that there is a long list of restaurants in Baltimore offering free food to any uniformed police officers, firefighters, and other first responders? Local places in the Baltimore community such as: Bagby Pizza Company, Firehouse Tavern, Blue Moon Café, Mothers Grille, etc, etc. Many of these restaurants have offered free food for uniformed first responders until further notice.
Have you heard about the free concert held by the Baltimore Symphony Orchestra? Titling this concert the#BSOPeace concert, and quoting Leonard Bernstein who was music director of the New York Philharmonic during the assassination of President John F. Kennedy, saying, "This will be our reply to violence: to make music more intensely, more beautifully, more devotedly than ever before."
Throughout all of these positive group efforts mentioned above, it's even inspiring to consider how much just one individual can stand out as a hero.  Have you seen or heard about the young boy handing out bottles of water to police officers?  There are tears in the eyes of Americans as we see the strength, courage, and compassion in this sweet child in Baltimore.  There is also pride in the eyes of a nation as one man stands between agitated protestors and a line of police officers, attempting to diffuse a bad situation by saying, "Do Not Give Them a Reason."
There are so many things we love about this great city, and we are honored to be a part of it. Baltimore is a beautiful city, full of beautiful people. We want to focus on what is good in this world, and the citizens of Baltimore are showing us the way.
Thank you to the true heroes of Baltimore who are inspiring a nation.