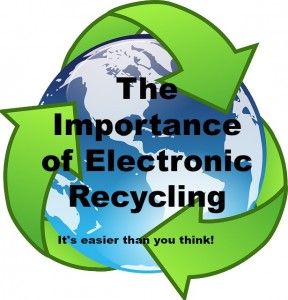 What is Electronic Recycling & How Can You Get Started?
Electronic recycling is the recycling of old cellular phones, computers, and other electronic devices.  According to Wikipedia, "Obsolete computers and old electronics are valuable sources for secondary raw materials, if recycled; if not, these devices are a source of toxins and carcinogens."
That alone is reason enough for us to be in complete support of these recycling initiatives.  We included a post back in May 2014 in regards to Spring Cleaning Tips to Save Money and the Environment.  We received a ton of great feedback regarding this post, so we wanted to build upon this and provide you with some useful information about Electronic Recycling In and Around Baltimore, MD; Washington D.C, & New Haven, CT.
Sell Your Old Electronic Items and Make a Few Dollars
Currently there are even programs and initiatives for you to sell your old items and make some money.
What Electronic Items Can I Recycle?
Cellular phones
Copiers
Printers
Desktop Computers
Laptop Computers
Scanners
Keyboards
Stereos (and stereo equipment)
Telephones
VCRs
Cables
Gaming Systems
Etc.
Click on your local city below for a complete list of electronic recycling acceptable in your area:
It only takes a moment, but instead of us just throwing these items in the garbage, if we dispose of these things responsibly the world will be a better place.  I think that is something we can all get behind.  Thank you for doing your part and please help us to spread the word.