Renovations at Eagles Walk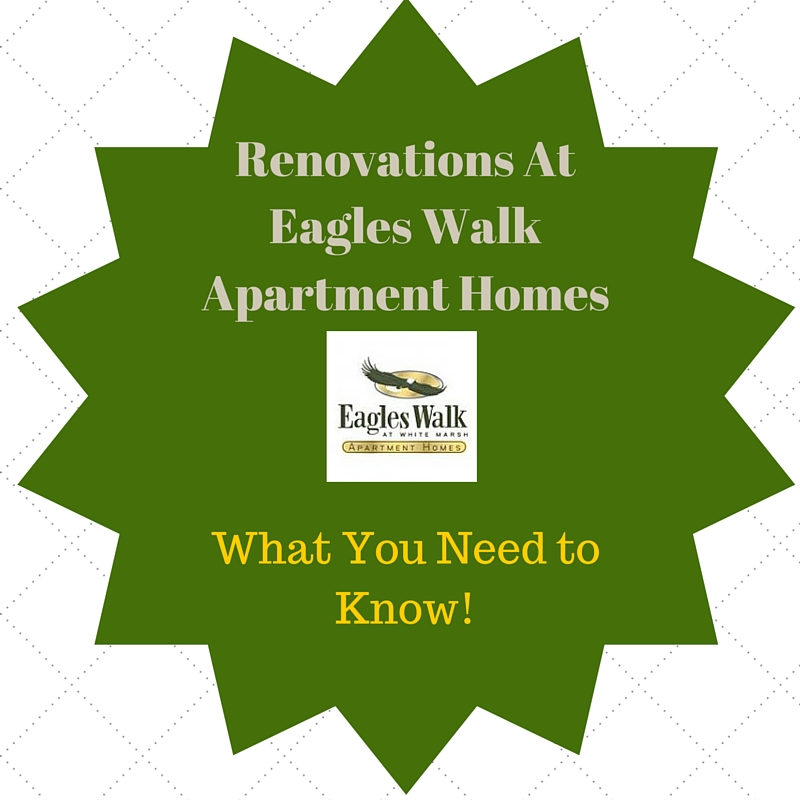 Dear Residents,
We are very excited about the renovations and upgrades that will be taking place in your apartment home. Here are some of the details for you regarding the estimated time frame for completion, and what you will need to do to prepare for all of these exciting changes. Please keep in mind that you will receive a letter for the dates of your respective apartment home schedule.
The installation will take place over the course of 3 days, beginning at 8 a.m. until 5 p.m. Each apartment home will take approximately 2-3 days to complete. It will be necessary for the water to your building to be shut down during these hours as well.  Please prepare for such. The water will be turned back on after 5 p.m. each day.
You must absolutely make certain that your pets are secured in a crate or in the bedroom, this is for their safety.
We must ask that you do the following prior to the renovation date:
Remove all items from your kitchen and bathroom – all cabinets must be emptied
Remove all food from your refrigerator as appliances are being replaced
Move all items from your dining area – push furniture back up against the wall as to clear a path from the front door to the kitchen area
Please be sure all electronics are stored away from the work area
Although it is fine for you to be home on the day of installation, we must ask that you are not in the room while the installation is taking place.
It will be the responsibility of the contractor to both cover up and clean up as the work is completed.  Please be assured that this work will be done in the most efficient way in order to minimize your inconvenience.
Would you like to see exactly what types of renovations you can expect in your apartment home? Stop by and visit our newly renovated model apartment home, or click here to Take a look!
Please give us a call if you have any questions about this project.