How to Make the Most of Artscape 2016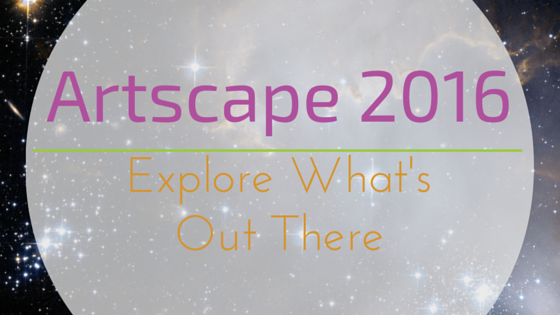 Artscape is the largest FREE arts festival in America!  The 35th annual Artscape in Baltimore Maryland will feature an "out of this world" Space theme. It will also be the first year that all food is local! Festivities kick off Friday, July 15 and go through Sunday July 17.
Like the universe, the fun at Artscape is infinite. With so much to see and do, planning out the details of your trip may even seem intimidating. Fear not "art-stronauts" (Yes? No? Trying to roll with the space theme). We are dedicated to making sure your 2016 experience goes above and beyond your earthly expectations.

What Can I Expect?
To quote this year's catchphrase, time to "explore what's out there."
This grand festival attracts over 350,000 attendees in the course of 3 days, and for good reason! With 150+ visual artists, the festival is for attendees of all ages, lifestyles, and interests. This year will feature visual and performing art exhibits such as outdoor sculptures, pop-up street theater, and the return of Gamescape (a showcase of video games and the creative people who create them). Artscape also features Kidscape, giving the little ones something to do and sites for the whole family to see.
New In 2016:
Space theme exhibits such as "Space Place," "The Mother Ship Connection," and NASA's "Sun as Art" exhibit (just to name a few, for the full list click here)
Artscape partnered with Accessible Festivals to ensure a fully accessible event for all

First Artscape exhibit to extend throughout all locations. "The Grand Tour" is a to-scale representation of the solar system, extending a mile-and-a-half 

David Bowie tribute concert

Prince tribute Dance Party

100% Maryland food vendors (more on the food below).
For additional Artscape information and updates, check their Facebook page too.
Who's Performing?
According to the Baltimore Sun, hip-hop icon, Wycleff Jean will headline the Artscape concert series. Other main stage performances include Foggy May, The Mighty Mighty Bosstones, Thurgood Marshall Band, Jah Works, and Aztec Sun.
Click to find out who else is performing at the John Hopkins Stage and Morgan State University Stage.
 How do I Prepare? 
Download the Artscape App.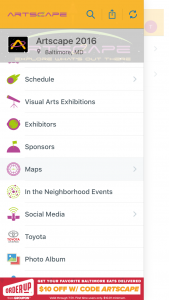 This app takes the stress out of planning and allows you to add any specific event to a "My Events" schedule.  There is even an option to set up reminders. Plus, maps to help you locate exhibits. You won't miss any of your must-sees with this on your phone.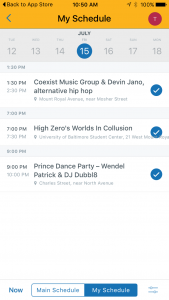 If driving to Artscape this weekend, consider purchasing a parking ticket ahead of time. As you can imagine, parking in downtown Baltimore during this event can be difficult.  Alternatively, whether you chose Amtrak, MTA, or your bike, you have options; but don't forget to plan ahead!
Last But Not Least …
What can I Eat?                 
Let's face it, the best part about festivals is the food. Well, 2016 will not disappoint! This year, Artscape's food & beverage is all about supporting locally grown and hometown products. 100% of this year's food vendors are Maryland based.
There will be 30 food vendors, including local favorites and farms throughout Maryland. You can expect everything from BBQ to seafood, from country cooking styles to those of Asian cuisine. Plus, carnival favorites like corn dogs and funnel cakes, and fresh salads and health options. 
For the extensive list of food vendors, use the Artscape app or click here.
Additional FYIs
Artscape takes place in the neighborhoods surrounding Mount Royal Avenue & Cathedral Street, Charles Street, Bolton Hill, and Station North Arts & Entertainment District.
Hours:
Friday: 11am-9pm
Saturday: 11am-9pm
Sunday: 11am-8pm 
Artscape After Hours: Friday and Saturday 9pm-11pm
We at Hirschfeld Apartment Homes in Maryland, hope our residents enjoy their Artscape 2016 adventures. Please feel free to share experiences and photos with us on our Facebook pages (Eagles Walk, Ridge View, Tall Oaks, or Steeplechase) Eagles Walk and Ridge View apartment homes will also be live tweeting throughout the weekend, so make sure to follow and tweet with us!
 Want to check out highlights of Artscape 2015?