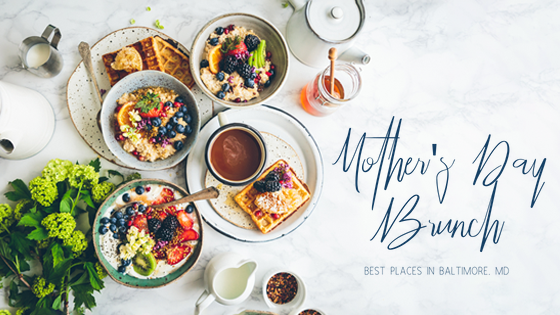 Why not treat Mom to brunch this year? In this article, we take a look at some of the best Mother's Day brunch spots located in Baltimore, Maryland.
After all, Mom has fed you many times. So, why not celebrate this Mother's Day with a special meal for her! We've rounded up the best Bmore brunch restaurants serving up everything from waffles to fresh locally sourced seafood. Whether you're looking for something casual, a little more posh, or an all-you-can-eat buffet, we've got you covered.
Top 7 Baltimore Brunch Spots
1. B & O American Brasserie
Head to downtown Baltimore for $15 unlimited Mimosas at the beloved Baltimore & Ohio Railroad Headquarters turned historic-chic restaurant. B & O American Brasserie has a brunch menu and atmosphere that never disappoints. We love their old fashioned donuts! Brunch is from 10:00 AM – 2:30 PM and reservations are recommended.
2. Gertrude's Chesapeake Kitchen
Gertrude's is a lovely restaurant with a mouth-watering brunch menu complete with vegan, vegetarian, and gluten-free options. Their local, farm-fresh eggs come from free-range chickens at the Springfield Farm in Sparks, Maryland. Brunch is served 10:00 AM – 3:00 PM, and you can make a reservation through their website. Also, if you're a mimosa fan, we recommend the Blood Orange Mimosa.
3. Johnny's
For a casual brunch buffet, head to Johnny's from 9:00 AM – 3:00 PM. This special Mother's Day Brunch Buffet costs $33 per adult and $19 per child. Johnny's also serves a regular brunch menu on Saturdays and Sunday in case you're looking to treat Mom on a different day. Either way, you can't go wrong with the cuisine at Johnny's!
4. Petit Louis Bistro
For a classy, French bistro affair, take Mom to Petit Louis Bistro. This fan-favorite will be serving their regular brunch menu and full a la carte menus with Mother's Day Specials. Brunch is from 10:30 AM – 2:00 PM and it is highly recommended you make a reservation ASAP.  Bon Appétit!
5. Blue Hill Tavern
If you're looking for a delicious three-course brunch for a fixed price of $29.99 per person, then make a reservation at Blue Hill Tavern. This Mother's Day from 10:30 AM – 2:30 PM indulge in savory delights, or have it delivered! The in-house Mother's Day Brunch special also features a children's menu upon request.
6. Miss Shirley's Café
Miss Shirley's is a personal favorite of ours. Her decadent Southern-style breakfasts are like none other in the Inner Harbor. From the fried buttermilk chicken and waffles to the crab cake and fried-green-tomato eggs Benedict, everything at Shirley's is delicious. Now, they aren't doing a Mother's Day special, but they serve up tasty brunch foods daily from 7:00 AM – 3:00 PM, and until 3:30 PM on Saturdays and Sundays. This way you can celebrate with Mom on a day that may be more convenient for you two.
7. The Mt. Washington Tavern
Lastly, The Mt. Washington Tavern is a roomy, Chesapeake Bay-themed restaurant that's been a Baltimore staple since 1979. They offer a delicious American fare with a raw bar and a variety of savory brunch items. Try Daddy Bone's Sunday Sammy!
Happy Mother's Day
We at Hirschfeld Apartments in Maryland would like to wish all the mothers, grandmothers, and mother figures out there a delightful Mother's Day. Remember, this year, Mother's Day falls on Sunday, May 12, 2019.
If you enjoyed this article, please use the social media share icons to share our top Mother's Day Brunch spots with your family and friends.
Happy Mother's Day!