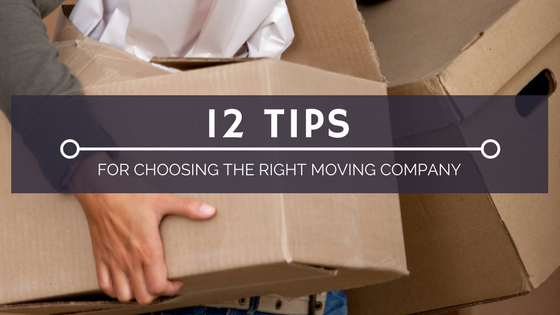 Choosing a Moving Company
Choosing a moving company can seem like a daunting task. Luckily, we are here to help you make the right choice.
We recently had the opportunity to speak with Jim, The Moving Expert, from Eastern Moving & Storage.
We asked Jim to help us navigate the waters when planning a move. Previously, he shared some excellent packing and moving tips with us in our post, How to Plan for a Successful & Stress-Free Move.  Now, he's back and assisting us with how to choose a moving company that is right for you.  
So if you're moving into a new apartment or a new home, continue reading for expert advice on how to hire the right moving company. 
12 Tips for Choosing the Right Moving Company
1. Compare Companies Online
When looking at a company's website, determine whether they're "real photos" versus stock imagery. The benefit of real photos is to determine how legitimate the business is.
Some smaller businesses use stock images showing 50 moving trucks, but may not even own a truck all, and may rent one the day of your move. This doesn't mean you cannot hire this company. It just means you will need to take extra precautions before moving forward.
2. Get Three In-Home Estimates
If and when possible, try to get at least three in-home estimates. Some companies will state they'll do an estimate over the phone, but when they get there, they say, "Well you didn't tell me about such and such, so we'll have to charge extra for that."  
Typically these companies will charge significantly more for the "extras" than a company doing an in-home estimate.
3. All 3 Estimates Should 

Come Within 10-15% of Each Other  
If there is one estimate that is extremely less than the other estimates, be skeptical. Often these low estimates mean they have greatly underestimated the amount of work involved. Unfortunately, as the old saying goes, if it sounds too good to be true, it usually is.
4. Check the Hourly Rate
When comparing estimates look at the hourly rate, not just the estimated time. Do not just focus on the bottom line, be sure you are comparing apples to apples.
5. Beware of the Flat-Rate Catch
Some companies will provide you a free flat-rate online. Flat-rate movers thrive on you leaving something out. When they do arrive at your location, they may charge five times more money for things that were left out (i.e., "We have to carry your items down a flight of stairs? We weren't notified of that – we'll need to charge extra" etc.).
6. Check Them Out In Person
If possible, drive past the brick and mortar store. If they have a storage area, ask to see it. You want a company that is neat and organized. If they respect their storefront and storage area, they will typically be respectful of your things on moving day.
7. Laborers Over Sub-Contractors
Go with someone who uses their own laborers, not sub-contractors. The sub-contractors could try to rush through the job because they may be making a commission on it. If that's the case, you can bet on limited customer service and no incentive for a satisfied customer.  
Choose a company with trained, in-house employees; this is what they do every day. They are skilled in this field and more likely to provide an efficient and safe move for your things. When moving companies hire new people, they are sent out with other senior members who can share their experience and teach & train as they go. This is not typical of sub-contractors; where you can never be sure of who will be caring for your things.
8. Never Give a Deposit
For a local move, most moving companies will not require a deposit. Be leery of those asking for one.
9. Ask to See Insurance Certificate
Always ask to see a copy of the insurance certificate. If someone is to get hurt inside the house, you want to be sure your moving company is covered.

10. Call the Mover to Confirm 
Do not wait for them to call you! Call the moving company 24 hours before you move to confirm. This will ensure that if for some reason the mover has accidentally scheduled you for the wrong day they can fix the problem before moving day. You do not want to be sitting at your house the day of your move realizing there was a scheduling or communications error.

11. Ask for Referrals
If your apartment complex, or your home builder, refer you to a particular moving company, that company will go above and beyond to keep you happy. Why? This moving company wants more referrals, and if you are happy; then your builder or apartment complex will continue to send more referrals. You can be sure you will have the moving company's "A-Team" if you are referred through a builder or apartment community.
12. Have a Conversation about Insurance
Many moving companies will not have this conversation with you, you have to start it. They will tell you (and sometimes show you) that they carry insurance. However, what many moving companies leave out is that their insurance covers only a small percentage of what your items are worth; standard liability is insufficient. Most moving companies will provide you with the option to purchase additional coverage. Be sure you have this conversation before signing on the dotted line.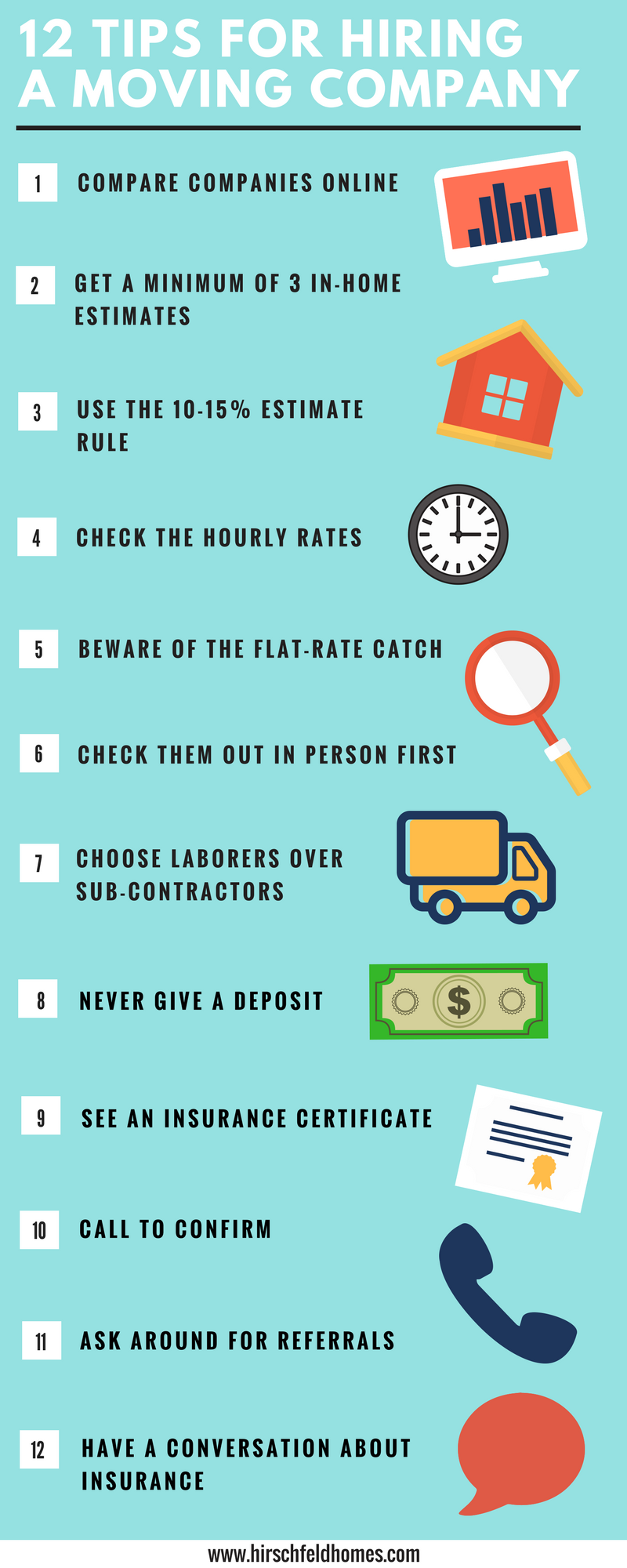 We at Hirschfeld Homes in Maryland would like to thank Jim and Eastern Moving & Storage for sharing all of these helpful tips.  If you have a question for Jim The Moving Expert, leave us a comment below.
Did you find this article helpful?  If so, please use the social media icons to "share" this on Facebook so we can share this information with others!