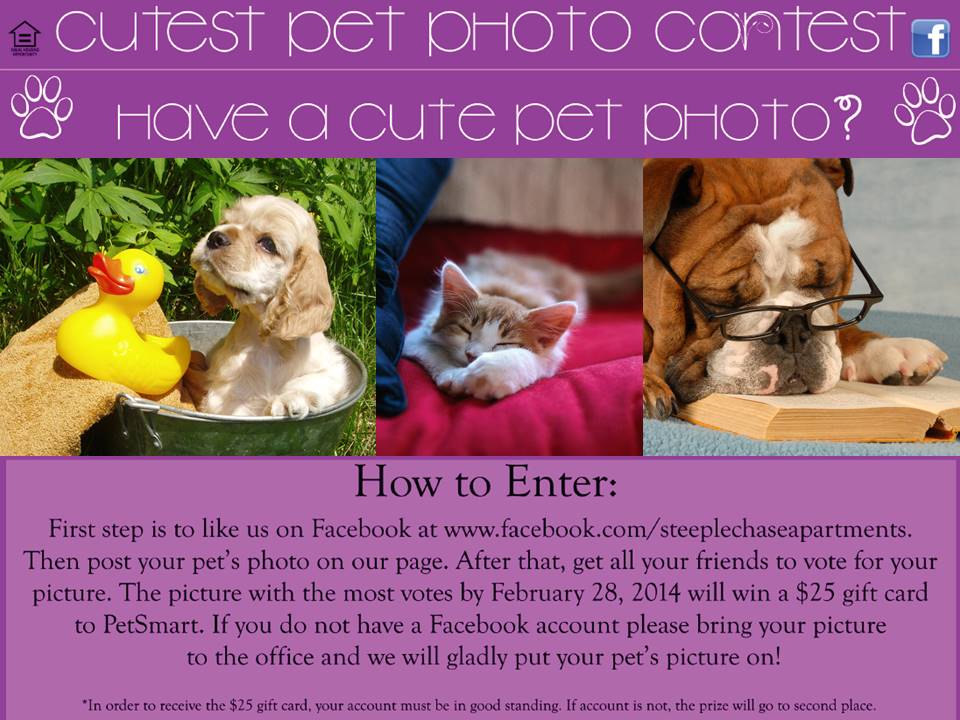 Steeplechase Cutest Pet Photo Facebook Contest
It's our 2nd annual Cutest Pet Photo Contest here at Steeplechase Apartments in Cockeysville, Maryland and we are excited!  This is one of our favorite contests and we have been looking forward to this.  The winner of our "Cute Pet Photo Contest" will win a $25 gift card to PetSmart. So how do you enter?
1) Make sure you "Like" our Facebook page
2) Post your pet photo to our page
3) Share with your friends and have them "like" your photo to vote!
If you do not currently have a Facebook page you are still eligible to enter.  Simply bring your photo to the office and we will post your submission for you.  It's that easy!  By the way, if you don't have a pet, you can still enjoy the contest by checking our Facebook page to see all of the adorable photos your neighbors will be posting 🙂
Official Rules
1) To win you must be a Steeplechase resident and your account must be in good standing.
2) To enter, you must post a photo on the Steeplechase facebook page or bring one to the office.
3) The winner will be selected based on the total number of likes the submission receives.
4) Winner will be selected by March 1, 2014 and notified by phone, email, or Facebook message.
5) Facebook & PetSmart are in no way associated with this contest.
We can't wait to see all of your photos!  Ready, set, GO!