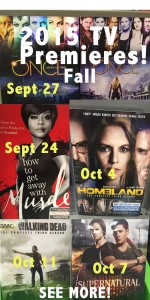 Must Watch Fall TV Premiere Dates for 2015
Yes, Summer is officially winding down but the good news is that many of our favorite TV shows will be premiering soon.  Yes, that means Scandal & Empire will be back, along with Grey's Anatomy, and well – soo much more!  We know your favorite television shows vary across different networks, and even some Netflix shows are important too.  So we've been doing lots of research and have included the premiere dates for the most popular television shows coming out in the Fall of 2015!  If you do not see your favorite on the Fall TV Premiere Guide for 2015 please send us a message on Facebook, our apartment home communities are in and around the Baltimore, MD area and we like to keep our residents informed of important TV dates (as well as FREE resident appreciation events,) ok, sorry getting off track here!  TV Dates – Let's GO!
EMPIRE – if you have not seen Empire, you need to catch up!  Don't worry you aren't too far behind; you have only missed 1 season.  For the rest of us who look forward to what Empire has in store for us in Season 2, we can find out on September 23, 2015 at 9pm on FOX.  Empire is one of the hottest shows and according to the Sun Herald, it has been a decade since a freshman show has seen such high ratings!  Let us know what you think!
Scandal – Olivia Pope is back and fans are patiently waiting to see what happens with her and the President!  So tune in on September 24, 2015 at 9pm on ABC.
Inside the NFL – Don't worry sports fans, we have you covered!  Inside the NFL on Showtime is ready to bring in the new football season with all of the inside scoop you are looking for.  Look for this one on Showtime on September 8, 2015 at 9pm!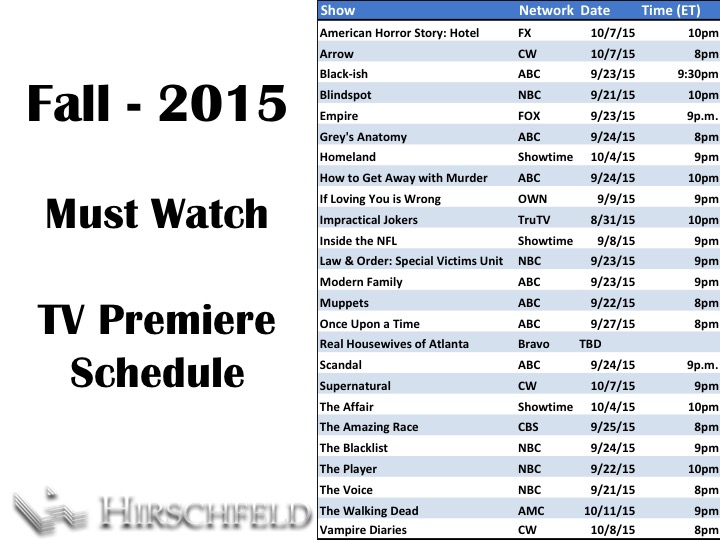 Our list includes the following shows: American Horror Story: Hotel, Arrow, Black-ish, Blindspot, Empire, Grey's Anatomy, Homeland, How to Get Away with Murder, If Loving You is Wrong, Impractical Jokers, Inside the NFL, Law & Order: SVU, Modern Family, Muppets, Once Upon a Time, Real Housewives of Atlanta, Scandal, Supernatural, The Affair, The Amazing Race, The Blacklist, The Player, The Voice, The Walking Dead, & Vampire Diaries.
Here is some additional information regarding new shows coming to Netflix in September/October 2015, or if you are interested, here is VH1's fall premiere schedule.  Please do not hesitate to share with us your absolute favorite shows so we can include them on this list (we'll keep updating until you are satisfied!)  Bring on Fall TV!