Resident Appreciation Events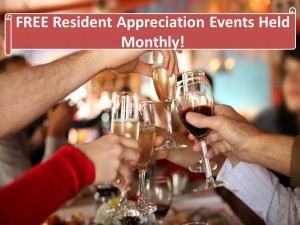 FREE Resident Appreciation Events Every Month – at each of our Apartment Communities
That's right, you heard us correctly.  Hirschfeld is proud you decided to call us home and for that we want to say THANK YOU, and not just once in a while, but as a reminder each and every month.  Our Apartment Home Communities host individual events each month for our residents; from Wine & Cheese Night on the red carpet, to a Trunk or Treating event for Halloween, to Pizza & Bingo Night, and so much more.


So please come out and join us for these FREE events.  It's a great opportunity to meet your neighbors, make new friends and have some fun!  Don't forget to Like Us on Facebook for more information about the events at your respective property.
LIKE US ON FACEBOOK!!!