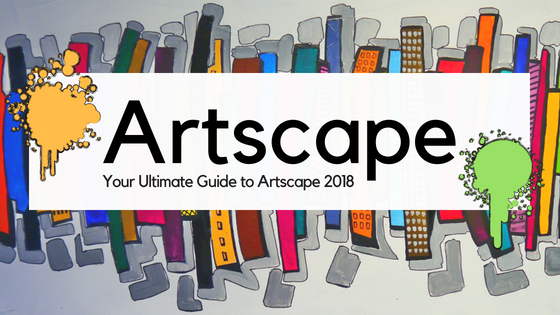 Artscape 2018
The annual Baltimore Artscape is America's largest FREE arts festival. The 37th annual Artscape centers on Mount Royal Avenue between Howard and Charles streets on July 20-22, 2018. In all of the excitement surrounding this event, it can be a bit overwhelming to navigate the waters.  So we are here to help!
What Can You Expect to See at Artscape 2018?
This impressive festival attracts over 350,000 attendees over three days and for a good reason!  The annual Baltimore event is an every-person festival, with attendees from all age groups, lifestyles, and interests.
The types of arts displayed are vast and impressive with outdoor sculptures, art cars, photography, and hands-on activities. Plus live concerts and shows including jazz, dance, opera, theater, film, experimental music, and pop culture.

"Of course, the best moments at Artscape are often the ones that were never planned. As an example, Kathy Hornig cites a 2006 concert by the rock band Secret Machines that was threatened by a sudden downpour. "We kept going," she recalls, "because there wasn't any lightning, and instead of dampening the party, the storm really got the party going. People were dancing in the rain, and when it let up, this giant rainbow appeared over Mount Royal Avenue. That's the kind of special effect you can't buy." – Baltimore Magazine, 2011 
These are just a few things you can expect from this grand festival, but as mentioned above, sometimes the best parts of the weekend are the unexpected!

Planning Your Artscape 2018 Visit
If driving to Artscape, you may want to consider purchasing a parking ticket ahead of time, as you can imagine, parking in downtown Baltimore during this event can be difficult.  There are also various other ways of transportation available so whether it's Amtrak, MTA, or riding your bike, you will have options, but don't forget to plan ahead.
For more information planning your trip, visit Artscape.org.
Things to Know for 2017
This year Artscape is going back to its roots. In past years, Artscape has centralized around a specific theme. However, not this year. Instead ,the festival will focus more on celebrating Baltimore's creativity in the arts as a whole.
Youth Day – Friday, July 20th.

Expect a variety of youth-focused exhibits and activities indoors and outdoors.

Silent Disco – Located at1300 block on Mt. Royal Avenue. Participants are handed a pair of headphones, and what at first appeared to be a crowd dancing wildly to silence becomes a full sensory experience.
Squonk Opera's Pneumatica – Friday, July 20, Saturday, July 21 and Sunday, July 22 located at 1704 Charles Street. Pneumatica is an event about air, made of air and powered by air. The Squonkers pump up the volume with live original music that permeates the air, while inflatables pump up and immerse the audience.
LOL@Artscape with BIG (Baltimore Improv Group) – Located at The BIG Theater, 1727 North Charles Street. Experience free improv workshops all three days of the festival, and attend free improv shows at 7:00 PM and 8:00 PM on Friday, July 20 and Saturday, July 21.
FREE Pedicab Rides – Located at Mt. Royal Avenue, from Lafayette Avenue (Hub 1) to Maryland Avenue (Hub 2). Experience the festival in a whole new motion with FREE pedicab rides during festival hours.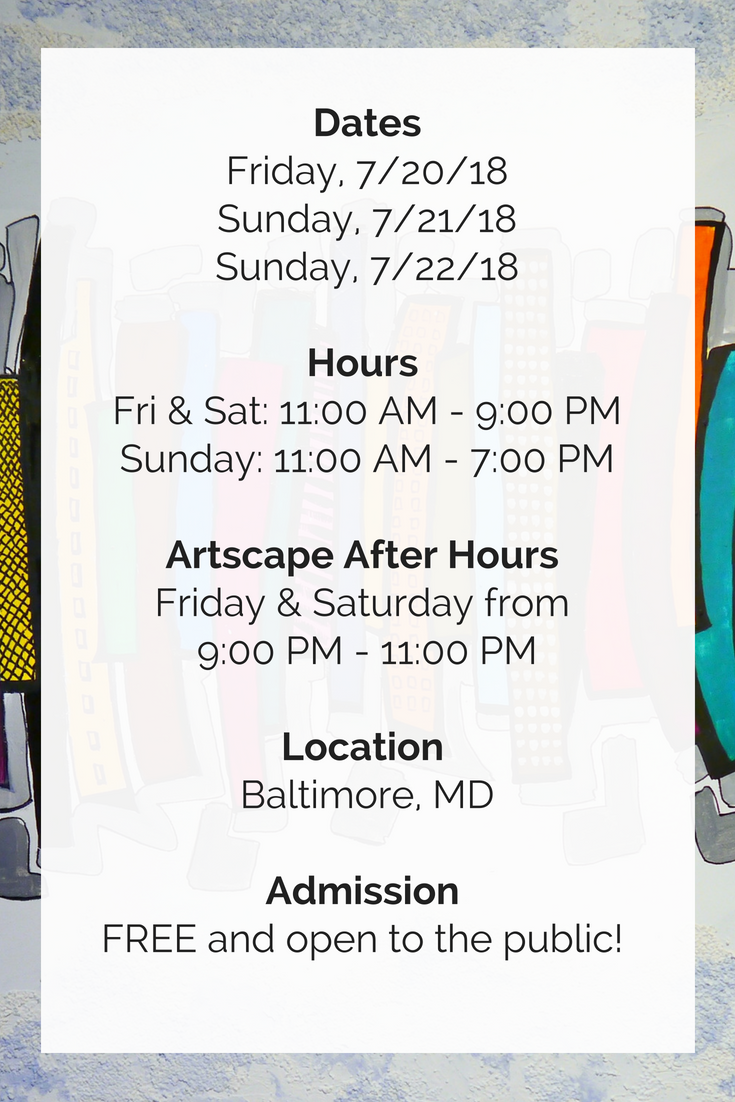 Who is Expected to Attend
The list is long and distinguished in 2018.  Headlining musical guests will include TLC and ZZ Ward.
There will also be musical performances across three stages throughout all three days with performances from local musical and dance talent.
For the full concert lineups, head to Artscape's Performing Arts Page.

Photo Credit: Artscape.org
The Food
While this event always shines a spotlight on local food and sustainability, you can count on Artscape food vendors to be extraordinary and plentiful. Expect traditional fair food such as hamburgers, hot dogs, sausage, French fries, fried dough, you name it! Local restaurant favorites such as Dooby's, Ekiben, The Local Oyster, Connie's Chicken & Waffles, and Otterbein Cookies will be there as well.
Don't forget to enjoy some of the staples Baltimore is so well known for too, including crab cakes!
If you would like a more extensive list, you can find it on the Artscape app, or online here.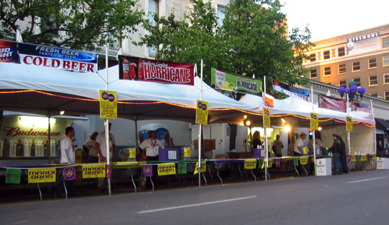 Photo Credit: Charm City Hospitality
See You at Artscape
We at Hirschfeld Apartment Homes in Maryland hope you enjoy your Artscape adventure. Please feel free to share your experiences with us on Facebook.  We enjoy sharing important information and happenings in the Baltimore area with our apartment home residents and would love to hear more about the highlights for you!
Enjoy 🙂