How to Put Your Special Touch on an Apartment Kitchen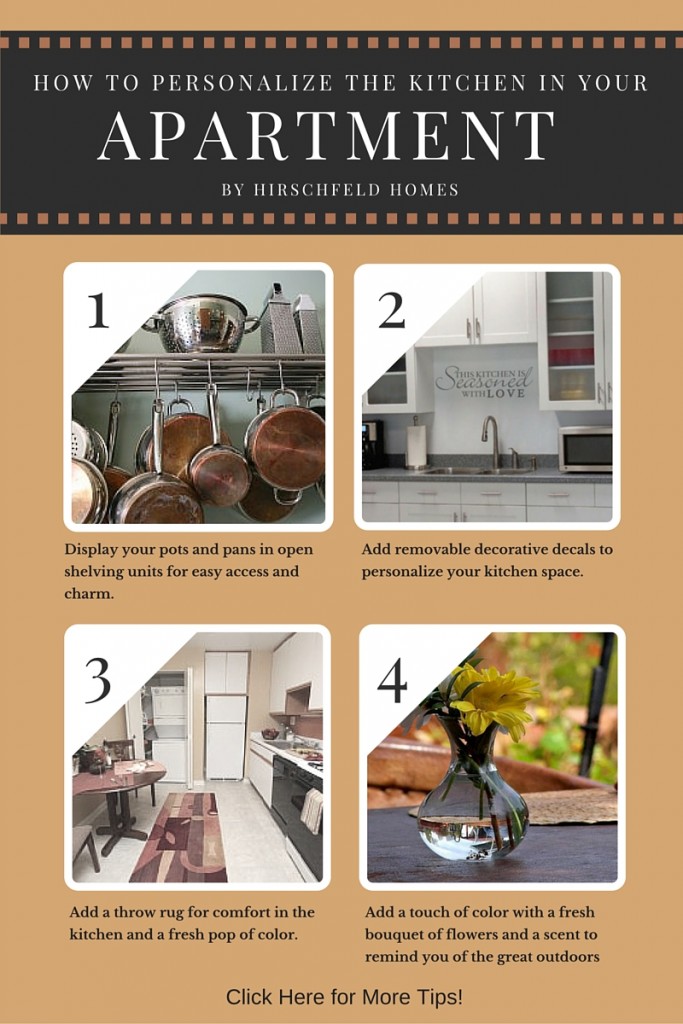 So you have moved in to your beautiful apartment home and now you are ready to put your special touch in each room.  You want to warm up the apartment to make it feel more like you.  However, there are certain limitations on your lease about the changes you can make.  So what can you do?  Plenty!  Here are just a few of our ideas:
Have you considered vinyl wall decals? We know that putting permanent objects on the walls can cause you extra work when you decide to move out; so how about vinyl decals that can be removed?  These are typically very easy to customize and also very creative.  We spoke to Peter at Decorative Decal and he told us they can create just about any sticker you have in mind.
Display your pots and pans for storage and give yourself extra cabinet space for other things. Have you considered a space to hang your pots and pans?  Bonus points for using something really cool to hang them from; Or perhaps a shelf with some hooks to hang your lids?
Have you looked around your space for a place to hang an extra shelf or a storage rack? Many people overlook the doorway in their kitchen; however, this can be a great place to add some extra storage or even just to decorate it and personalize your space.
Do you need to add a pop of color to your space? Or maybe you would just like a softer place to stand while preparing dinner or doing the dishes.  Throw down a rug and you now have a softer spot to stand and prep.  Although many people don't think rugs are ideal in a kitchen a smaller rug that can be thrown in the washer or even replaced for a low cost – it can be just the thing your apartment kitchen needs.
Don't forget to "Embrace Open Kitchen Storage" as Better Homes and Gardens points out here. If you have an area for a bakers rack (here is a great one,) the kitchen can be a great place to display your most unique pieces while also using this for functional storage.
To open the space up a bit, try taking off a couple of your cabinet doors. This can be an additional way to display your items and bonus points if you add removable wall paper to the backside of the cabinet to give you a punch of color too!
Does your lighting do all that you need it to do? Perhaps you could use a bit of additional under cabinet lighting.  Here is a great option from Ikea that includes mounting hardware and double sided tape.  Nothing too permanent here; but it will certainly help you to personalize your space to fit your specific needs.
Add your uniqueness to the space; whether through knick-knacks or art work. Make sure even your kitchen reflects who you are 🙂
So there you have it; 8 great ways to help your kitchen feel more like your own.   If you have photos of your personalized kitchen or even some additional suggestions please share it with us on Facebook!