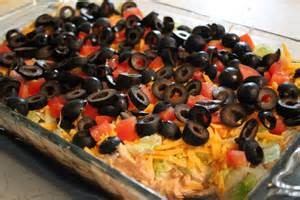 Delicious Layered Bean Dip Recipe
One of our residents was kind enough to share with us her favorite recipe for a crowd.  This is great for days of smashing on if there are only 2 of you or great for a modest sized party. Due to having to chop up the ingredients, you are looking at approximately 30-45 minutes of prep time. The good news is, once you're done prepping, it's ready to eat. So here it is folks, enjoy!
Layered Bean Dip
9×13 pan
2 -10 oz. cans jalapeno bean dip
1 cup of sour cream
2/3 cup mayo
1 package taco seasoning mix
2 – 4 oz. cans of chopped chilis
1- 8 oz. grated cheddar cheese
2 cups sliced green onions
2 cups diced tomatoes
2 cans pitted black olives – sliced
Taco chips
Spread bean dip in 13×9 pan, mix sour cream, mayo, and taco seasoning mix together, spread over bean
dip. Layer green chilis, grated cheese, onions, tomatoes, and olives. Serve with chips.
When you try out this recipe, please send us a message on Facebook and let us know what you think!