Bright Lights & Bright Minds Gather in Baltimore, MD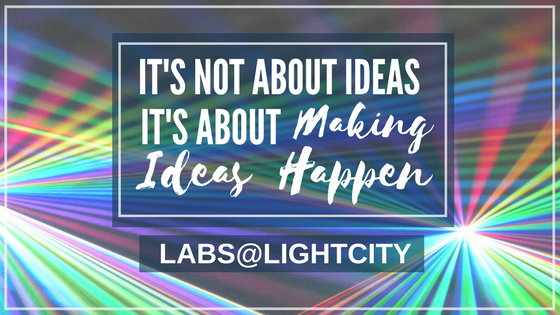 What are the Labs at Light City all about?
Light City Labs = Social Innovation Collaboration
The goal of Light City Labs is to do for social innovation what Sundance has done for film, what Art Basel has been for contemporary and emerging art; in short – a GAME CHANGER.
Baltimore is an emerging center for social innovation in our country; Light City Labs can be the annual meeting place for like-minded individuals who aspire to be a part of a positive social change.
Light City Labs is the opportunity to bring emerging voices, with new ideas, together with established leaders in social innovation to explore and help shape the future of society.
Sounds exciting, doesn't it?


How do the Light City Labs work?
Each day will feature a different topic (see infographic) and each day will have a jam-packed session full of speakers. The goal of each day is to explore the innovations and practices that will build stronger, more equitable cities. The topics for the Light City Labs have a different theme each day and are broken down into 6 main categories. The goal is to inspire, and provide many opportunities to listen, learn, ask questions, share ideas, and make new connections.
The days begin each morning with a networking breakfast; a time to connect with local leaders and innovators in various areas throughout the community.
Who are the speakers at Light City Labs?
Siddhartha Mukherjee – Pulitzer Prize winner
Alec Ross – New York Times best-selling author
Luvvie Ajayi-New York Times best-selling author and blogger
Donovan Livingston – Award-winning educator and spoken word poet (check out his viral Convocation video, you may have seen it already)
Danielle Neirenberg – Founder of Food Tank
Tammira Lucas – Top 40 Under 40 CEO
Nilofer Merchant – TED Speaker & Author
Coffin Nachtmahr – Founder OhYesYo!
Wendel Patrick – Music Producer, Photographer, Educator, and Co-Founder, Boom Bap Society
+ So Many More!!!!
What Topics Will Be Addressed During Light City Labs?
As we mentioned each day will cover a different category. In reviewing the daily schedules there are a large number of topics of interest. Topics such as:
Tiny Space Farming
Building a Sustainable Social Entrepreneurship Ecosystem
Transforming building, communities, & cities for equity
The Power of Food
Daily Networking lunch opportunities
Afternoon Yoga Stretches
+ So much more!
Who Should Attend Light City Labs?
Though we think there is something here for everyone, we do believe that it's the dreamers, the believers, the disruptors, and the "think outside the box" people who want to drive change that will benefit the most from it. If you want to hear about fascinating new ideas, while including some thoughts of your own; or ask thought provoking questions – this is for you. If you are excited about the future of society and want to be around other "like-minded" individuals, you will probably be in good hands here.
Choose the day or days that mean the most to you or join Light City Labs for all 6 days.
I Want to Go! What Do I Need To Do?
Yes! Tickets are $149 for each day but if you purchase before April 2nd and use code LUCKY99 you will save $50. So go ahead and register. I'll see you there!