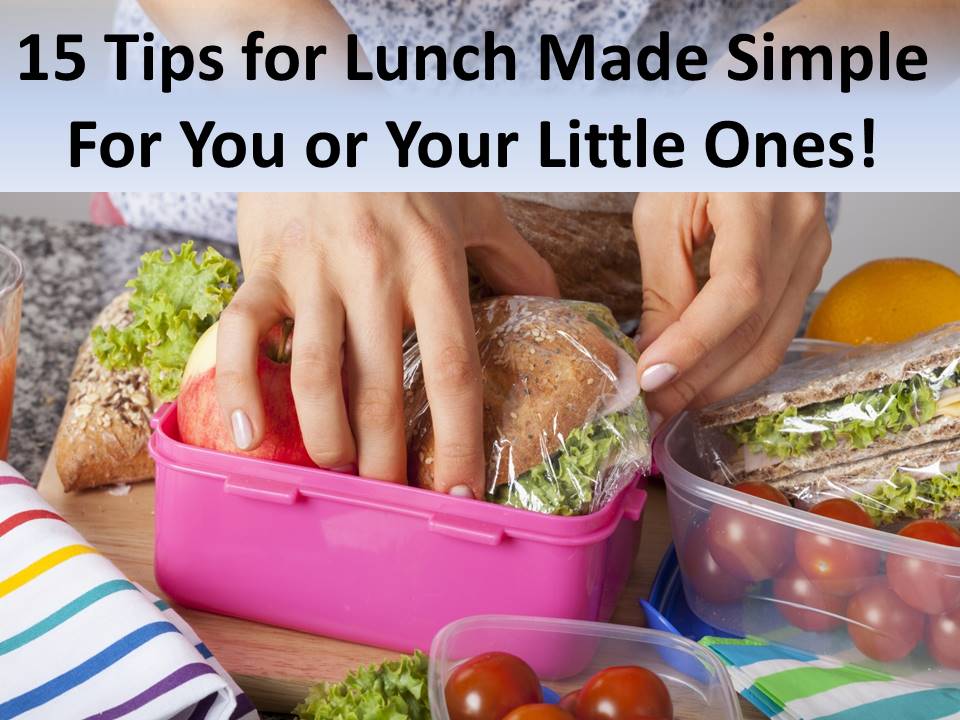 Lunch Made Simple – It Really Doesn't Have to Be So Bad!
Pinterest is a fantastic place to go for many things and we are in love with Pinterest these days.  So we have created our own "Pinterest Boards" for Apartment Living, and well once we got started we just couldn't stop.  Upon our strong love for Pinterest we have come across a variety of excellent tips and we thought we should highlight a few of them right here, as well as adding some of our very own!
Okay, here it goes:
When packing an apple in your lunch go ahead and slice it up.  You are probably already thinking, "I don't want to eat a brown apple by the time I get to lunch…" but that's what makes this tip so great.  After you slice up your apple, put it back together and hold it that way with a rubber band.  Now you have the convenience of apple slices without the browning.  Success!
Keep a lunch bin in your fridge or a drawer just for lunch items and stock it each week.  While you are at it; do it in the pantry too!  Now you have everything in one place so when you are packing lunch for the day you won't have to start searching throughout your refrigerator.  So grab your yogurt, raisins, fruit and veggies; clean and separate them into individual bags at the beginning of the week and place them in your lunch drawer – how easy is that?
Do you or your kids love chicken nuggets for lunch?  It would be so nice to be able to enjoy them nice and warm for lunch, but how?  Simple!  Place the already cooked and heated chicken nuggets in a thermos – presto!  Throw in a packet of ketchup or BBQ sauce and you are done.
This tip we had to share!  Thank you to Uncommon Design for sharing.  Since a picture is worth a thousand words – take a look at their custom designed lunch station!  We are in love….
Looking to save some money when packing lunches?  Here are a few tips: Skip the single packages and make them yourself.  It's more expensive to buy packages of single bags of pretzels.  Buy a regular bag of pretzels and split them into reusable containers. Done!  Also, skip the sandwich bags when you can and use reusable containers; better for the environment and your wallet.
Speaking of good for the wallet, have you ever considered turning your milk jug into a sandwich box?
While we are on the Saving Money topic, consider buying your lunch food in bulk.  If you find yourself always having trail mix – buy more for less and store it.  Find a really good sale on lunch meats?  Buy extra and freeze it!  Don't forget about the beauty of the freezer when buying in bulk.  If you can't use it right away; freeze it!
 Here is an oldie but a goodie… make extra food when you are cooking dinner!  A person can only have sandwiches for so long before lunch becomes nothing to look forward to; if you want to make lunch a bit more exciting – add some elements from last night's dinner.  Remember to use a thermos if you need to keep it warm 🙂
If you are packing lunch for your little ones – try printing out this "Idea List" (thank you to Simplify101.com for the share) and asking them to cross out what they don't like, and circle things they do.  If you are packing lunch for yourself, this list is still a great tool to take a look at if you need some new ideas.
Looking to keep things cool in your lunch?  Consider freezing grapes, Go-Gurt, or even cottage cheese.  If you need a place to freeze individual size portions (think cottage cheese or even jell-o) try a muffin tin.
Since the lunch packing can be a daunting and time consuming task to prepare; considering calling in some help to prepare them in advance.  Where can you find extra hands to pre pack snacks and such?  Well, if you are reading this blog for advice for your kids – you are in luck; the kids are the helpers we had in mind.  If you are reading this blog for yourself, we recommend having a few friends over, and after dinner, you may want to hand them some raisins and a few containers and ask them to start packing.  Please message us on Facebook and let us know how this goes over 🙂  We're very curious, and as always include photos.  To up the ante a bit more, perhaps offer your friends a few glasses of wine too – but only if they aren't driving!
Prepare all of your lunches for the week in just one day!  Now that would sure help minimize the morning stress right?  Here is a Pinterest share that promises to help with that!
So we shared a tip focusing on kid lunches; here is one for the adults… Lunch in Mason Jars! Lovely, fresh, and delicious – just take a look here.
Don't forget to make packing your lunch fun!  If you have little ones get them involved.  If you are making lunch just for you – play some amazing music.  Music makes everything better 🙂
Completely run out of time – and still no lunch?  Keep an envelope near your lunch packing station with some cash inside for those times when you are in a pinch.