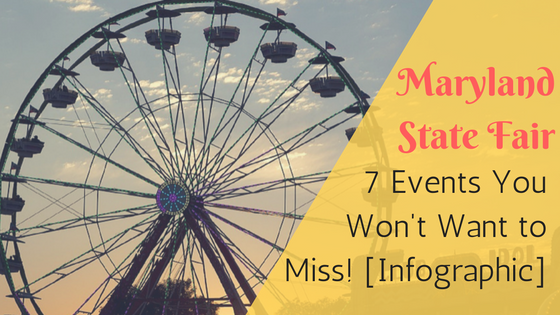 Maryland State Fair – 7 Events You Won't Want to Miss
Get ready for "unFAIRgettable" fun at the Maryland State Fair! The highly anticipated end-of-the-summer bash is perfect for kids, parents, couples, and friends looking to celebrate the tradition. This 12 day festival has everything from livestock and horse shows to rides, games, and live entertainment. No matter who you are, where you live, or what you want to do, the Maryland State fair does not disappoint. Here are 7 Events, you won't want to miss in 2016. 
The fair starts on August 25th and lasts until September 5th. 
To help you plan your visit, we put together the major highlights. For a full list of events and activities, check the Maryland State 2016 Schedule. And for all our Steeplechase residents, in Cockeysville, MD, keep in mind the fair is only minutes away from your apartment homes!
1. 

Preview Night in Timonium, MD – August 25, 2016

 
New this year, Preview Night, featuring "Ridemania," will offer fairgoers a discounted ticket to ride all of the rides and sample the fun in store for the next 11 days. On Preview Night purchase Admission & Ride Wristbands for only $20 each or a Walk-Around Admission for just $1. Keep in mind this awesome offer is only for Preview Night.
FYI: After Thursday 8/25, Writstbands will go to $25 each and Admission will be $8 per adult, $3 per child.
2.

Opening Day + Miss Maryland Contest – August 26, 2016 
Maryland State Fair buildings, barns, thoroughbred racing, games and food will all officially open on Friday, August 26. Stay throughout the evening and catch the Miss Maryland Agriculture Contest at 8:00 PM.
3.  

Fireworks Show – August 27, 2016

 
Tonight only, watch the 135th Maryland State Fair anniversary fireworks. Head to the Fairgrounds Infield at 9:00 PM for the fireworks show.
4.

State Fair Parade – August 28, 2016
New this year, the much anticipated Maryland State Fair Parade returns after 35 years to the racetrack. (The last State Fair parade was in 1981!) This year's parade will feature floats, a variety of horses, marching bands, color guards, antique farm implements, vintage vehicles, fire department vehicles, music and more.
5.

HHMM Riding Showcase – September 2, 2016
Horses Healing Maryland's Military (HHMM) Riding Showcase will be held from 5:00 PM – 8:00 PM, in the Horse Show Ring. The HHMM (a new coalition of licensed Maryland stables offering therapeutic programs to veterans and their families) will feature a Military Tribute, the U.S. Army Caisson Platoon, 3rd Infantry Regiment with an Old Guard history presentation, and more.
6.

Charlie Puth and Ruth B. Concert – September 3, 2016
This year's concert series, live on the Racetrack Infield Stage, features Charlie Puth with opening act Ruth B. Charlie Puth, whose debut album "Nine Track Mind" features top hit "See You Again," will headline the series starting at 7:00 PM. Singer/songwriter Ruth B. of the viral hit "Lost Boy" will be the opening act. (On-line tickets available at here)
BONUS September 3, 2016: 
Catch, or even participate in, the annual Arm Wrestling Event!
7.

Bobby Bones & The Raging Idiots and Jana Kramer Perform – September 4, 2016
Don't miss iHeart Radio's comedy group, Bobby Bones & The Raging Idiots plus country music's fresh face, Jana Kramer perform live at 7:00 PM. (On-line tickets available at here)
Wait There's More Highlights of the Maryland State Fair!
August 25th-28th – Catch the Horse and Pony Show at 9:00 am

 in the Horse Show Ring 

August 27-28 – Oyster tasting and edicational displays hosted by the Maryland Oyster Industry from 2:00 PM – 7:00 PM at Oyster Alley in State Fair Park
Daily Attractions Include
U-LEARN Food – Daily exhibit, across from Cow Palace, will feature Farm to Table themed educational exhibits plus Jeopardy games taking place at 1 PM, 4 PM and 7 PM. 

Nature Play Space – Kids can explore sand, mazes, nature art, gardening and a handful of fun and educational stations.

Cow Milking Lessons – Want to learn how to milk a cow? Head over to Cow Palace between 5:00 – 7:00 PM for public cow milking lessons.

Swifty Swine Racing & Swimming Pigs – See the piggies go over at the Farm and Garden Building from 2:30 – 3:00 PM and then again in the evening from 8:00 – 8:30 PM.

Plus plenty of rides, food, and shopping!
DON'T FORGET TO ALSO Keep an eye out for the Strolling Entertainers including Rock-IT The Robot, the Chicago Honey Bears Dancers, The Conjurer, Stilt Man, Cowboy Clown, and an 18-foot high barn sculpture. These attractions can be seen daily, following Preview Night, along with Melody Farm Follies animated entertainment.
We at Hirschfeld Apartment Homes in Maryland hope that all our residents enjoyed their summer. If you do get the chance to head to the State Fair, tell us about your experience on our community Facebook Pages Steeplechase, Eagles Walk, Ridgeview, or Tall Oaks.
To learn about the highlights from last year's fair, click here.