Hirschfeld Presents Miguel Martinez with the Good Samaritan Award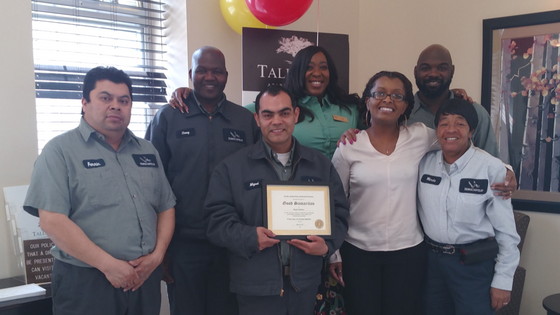 Heroes Are All Around Us
Sometimes people happen to be in the right place at the right time. However, when their heroic actions and genuine kindness demonstrate the heart of the community and prove that heroes can be found around us each and every day, it is certainly worth noting.
Words cannot express how honored we are to have Miguel Martinez as a valued member of the staff at Tall Oaks Apartment Homes in Laurel, Maryland. Our gratitude for his actions is immense. And it is because of such that we are beyond delighted to present him with the first-ever Hirschfeld Good Samaritan Award.
A Selfless Act of Kindness
Miguel recently helped a Tall Oaks resident safely into his apartment one morning after the resident experienced severe chest pains. The resident explained that while walking his dog outside one morning, his chest began to hurt and he was unable to catch his breath due to a medical condition. The resident was struggling to get back up the steps before his legs gave out entirely.
Mr. Martinez rushed to the resident's aid and helped the man back up the stairs and into his apartment home safely. "He may have saved my life," informed the resident. "For that, I am eternally grateful."
Miguel was parked in his car that morning when he noticed the resident in trouble. Being off duty did not stop him from being a helpful and compassionate hero. If it wasn't for his quick reaction to the situation, we could have tragically lost one of our residents.
The Hirschfeld Good Samaritan Award
The Hirschfeld Good Samaritan Award is a symbol of the everyday heroes that can be found right here in our own communities. Miguel's inspiring story has sparked a new Hirschfeld chapter in favor of sharing other inspiring stories of compassion and bravery that begin each and every day around us.
Miguel Martinez is the first recipient of the Hirschfeld Good Samaritan Award, and it is because of his story that we look forward to awarding the Good Samaritan to many others in the future to come.

Heroes of Hirschfeld
Whether it be a member of our staff or a resident, we know that the Hirschfeld Communities are full of kind and good-hearted individuals lending helping hands and saving the day.
If you would like to nominate someone for the Hirschfeld Good Samaritan Award or share your inspiring story with us, please visit our Good Samaritan Award Page.
We look forward to more stories like Miguel's and thank Mr. Martinez and the resident he assisted for sharing this heartwarming story with the community.