Listen up, we've got the scoop on the hottest Baltimore, Maryland festivals coming your way.
So, whether you like sipping wine, sampling food trucks, listening to live music, getting a good laugh, or enjoying an indie film, there's something for everyone. Not to mention with a handful of free, family-friendly festivals in the mix, we guarantee seasonal fun for everyone in Bmore!
Check out our guide to spring 2019 Festivals in and around Baltimore, Maryland now through June.
10 Spring 2019 Festivals In and Around Baltimore, MD
1. Baltimore Kite Festival
When: Saturday, March 30, 2019
Where: Patterson Park
How Much: FREE!
Flying into Patterson Park for the first time this spring, the Baltimore Kite Festival promises a cultural festival with music, vendors, kite making, and a friendly kite flying competition.
2. Canton Spring Festival
When: Saturday, April 20, 2019
Where: Patterson Park
How Much: FREE!
The annual Canton Spring Festival is another family-friendly and free, Patterson Park festival headed to Baltimore this spring. Enjoy an afternoon of food trucks, live music, vendors, dedicated kid zones, and giveaways.
3. Charm City Bluegrass Festival
When: April 26-17, 2019
Where: Druid Hill Park
How Much: Tickets start at $32, Free for children under 10
The Charm City Blugrass and Folk Music Festival is a family–friendly featuring entertainment from both contemporary and classic artists as well as local talent. Click here for ticket info.
4. Maritime Heritage Festival
When: Saturday, April 27, 2019
Where: Fells Point
How Much: FREE! (Additional ticket packages for purchase)
Formerly known as the Fells Point "Privateer Festival," the Maritime Heritage Festival is back for its 15th year. Celebrate Baltimore's maritime culture and enjoy an educational land invasion of living history with live music on two stages, historic ships and tours, interactive demonstrations, comedic skits, and kids programming. Plus, play with parrots, gaze at living mermaids, shop at maritime merchant booths, sip grog, taste grub, join the rum punch stroll and more!
5. Flower Mart
When: May 3-4, 2019
Where: Mount Vernon Place
Flower Mart returns to Mount Vernon Place on May 3-4, 2019 and will be managed for the first time by the Mount Vernon Place Conservancy! You can expect plant and flower vendors, plenty of food, arts and crafts, as well as musicians and educational workshops.
6. Charm City Comedy Festival
When: May 1-12, 2019
Where: 1023 W 36th St, 21211, Baltimore MD – The Lou Costello Room (Upstairs at Zissimos Bar)
How Much: Tickets for this festival is broken up into $10 Day Passes, $20 Weekend Passes, $40 All-Festival Passes, and individually priced workshops.
If you are looking to have a good night and get a good laugh, then head over to the Charm City Comedy Festival. With various comedians from all over the country, it's sure to be a fun filled night you won't forget. Plus, think you got what it takes to be a comedian yourself, sign up for improv and standup workshops throughout the festival.
7. Maryland Film Festival
When: May 8-12, 2019
Where: Baltimore's Station North Arts and Entertainment District
With over 40 feature films and 10 shorts programs, spanning all genres and drawing works from all over the world, the Maryland Film Festival is an applauded festival showcasing today's acclaimed independent films as well as new, buzz-worthy discoveries. The Festival is also packed with panel discussions and all screenings of North American films are hosted by the artists.
8. Baltimore Wine & Food Festival
When: Saturday, May 11, 2019
Where: Rash Field
How Much: General admission $40 / VIP Admission $80
The Baltimore Wine & Food Festival has been called a "World-Class, Waterfront, Culinary Event." This year marks the festival's 4th annual celebration, bringing together world-renowned chefs, artisan craftsmen, and culinary pioneers with thousands of Baltimore's foodies.
9. Maryland Craft Beer Festival
When: Saturday, May 11, 2019
Where: Carroll Creek Linear Park (Frederick, Maryland)
How Much: General admission tickets are $40, and Designated Driver (non-drinker admission) is $15. If you don't live near Frederick and don't feel like driving, you can purchase a BAMbus ticket $80, which includes a ride to and from the event with VIP access.
The Maryland Craft Beer Festival is right up any beer connoisseur's ally. With over 40 Maryland breweries, there is plenty of beer to taste. Plus enjoy live music and entertainment.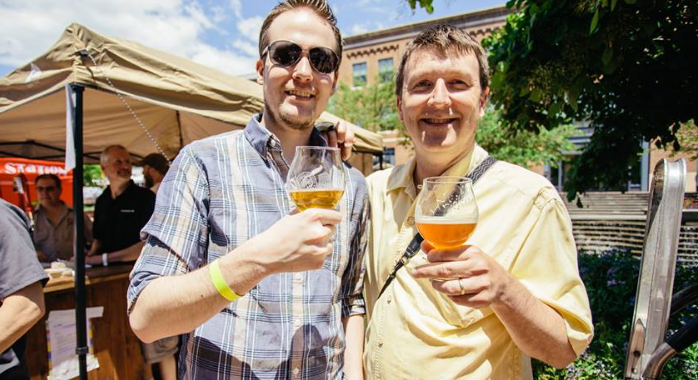 10. Baltimore Wine Festival
When: Saturday, June 15, 2019
Where: Canton Waterfront Park
How Much: Tickets range from $15-$89
Experience 160+ wines from around the world at the 5th annual Baltimore Wine Festival. There will also be gourmet food provided by local eateries, live music, cooking demonstrations, wine seminars, craft beer, shopping vendors, and a family zone.
We at Hirschfeld Homes Apartments in Maryland, enjoy providing our residents with information on fun seasonal activities and events. For more Baltimore, Maryland festivals throughout the year, visit Baltimore.org.
To share this post with family and friends, use the social media icons at the top of this page.
See you at the festivals!