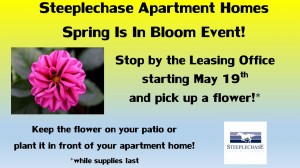 Steeplechase Apartment Homes Spring Is In Bloom Event for Residents Begins May 19, 2014
"Spring Is In Bloom" at Steeplechase Apartment Homes and residents will soon be able to take part in our newest event designed to bring a little seasonal cheer to everyone in our community.
Beginning May 19, 2014, all Steeplechase residents are welcome to stop by our office and pick up a flower to keep on your patio or plant in front of your apartment home.
The "Spring Is In Bloom" event at Steeplechase Apartment Homes is just another way for us to brighten your day and share the joy of Spring with all of our amazing residents who we truly appreciate.
Reminder for Residents: Don't forget that our "April Showers Bring May Flowers – Balcony/Patio Makeover Contest" is now underway and runs through May 15, 2014. Post your "Spring Cleaned" balcony/patio pictures to our Facebook page to enter and possibly win a $50 AMEX gift card and a flower basket for your balcony or patio!