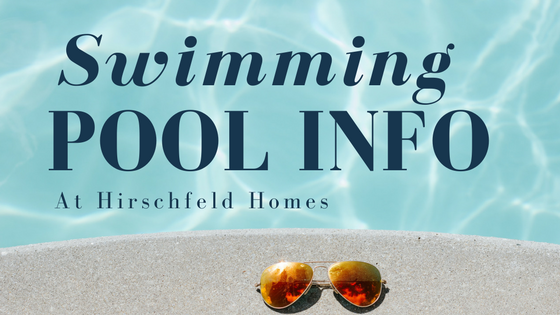 Swimming Pool Information
It's swimming pool season at Hirschfeld Apartment Homes!
Therefore, to help you make the most of this anticipated time of year, we put together the important information you need to know about our pools. So, keep reading for hours of operation, safety rules and regulations, guest pass info, and more.  
Opening the Pools
Our apartment homes in White Marsh, Cockeysville, and Laurel, all have the same swimming pool schedule and hours of operation. The pools are scheduled to open on Friday, May 26, 2018, for weekends only! The full schedule will take effect after school lets out for summer vacation.
Swimming Pool Hours
There needs to be a lifeguard on duty, and you need permission to access the pool at all times. Our lifeguard will be on duty during the following hours:
Sunday: 12:00 PM – 8:00 PM
Monday: Closed for cleaning
Tuesday: 12:00 PM – 8:00 PM
Wednesday: 12:00 PM – 8:00 PM
Thursday: 12:00 PM – 8:00 PM
Friday: 12:00 PM – 8:00 PM
Saturday: 12:00 PM – 8:00 PM
Please note that the pool can be closed at any time due to weather conditions, for maintenance,  or at any other time based on lifeguard or manager's discretion.

Please keep in Mind
Anyone under the age of 13 needs to be accompanied by an adult age 18 or older.
No flotation devices are allowed at any time. The only exception is for a U.S. Coast Guard approved life vest.
If a child requires the use of a life vest, an adult (18 or older) needs to be present in the water the entire time.
Swimming Pool Access
All residents must show resident ID to obtain access to the pool.

Guest passes may be purchased in the leasing office during regular office hours.

Residents are limited to 4 guest passes at any time unless receiving prior management approval.

Guest passes are good for one day only and must be presented to the lifeguard on duty.

Residents will be held responsible for all actions of their guests.
Additional Swimming Pool Resources
To all of our residents here at Hirschfeld; we hope you have a safe and enjoyable summer and thank you for choosing to call Hirschfeld Home!