Valentine's Day Gifts That Give Back
Love it or hate it, Valentine's Day tends to be inescapable this year. Stores flood with pink and red heart-shaped boxes of chocolate. And social media buzzes either with date night ideas or lonely heart memes.
But, what if we used this symbolic holiday of love to give back? What if instead of fancy dinners and pricey jewelry, we performed more profound acts of kindness, straight from the heart?
Whether you have a Valentine, friends and family in need of a little extra love this time of year, or looking to do something meaningful for the community, we have a list of idea below. So, this year, let's consider giving the Valentine's Day gift of giving back.
6 Gift Ideas that Give Back
1. Spread the Love
Now is an excellent time to volunteer. Feed dinner to the homeless on Valentine's Day either by volunteering at a soup kitchen or church event. Or consider hosting a food drive at your office or within your community.
2. Share the love
While we're on the topic of volunteering, you could also volunteer your time at a retirement home. Many elderly folks get especially lonely this time of year as many have come to lose their once Valentines.
3. Spend the Love
Pay it forward to other couples who may be struggling financially and can't afford do anything special for Valentine's Day. Give a gift card for dinner. Or randomly pay for a couple's coffee on the line at Starbucks, just as a friendly gesture.
4. Seal the Love
No one writes letters anymore. You may be thinking, well, with all of today's technology, who needs to? But, taking the time to write letters by hand is not only romantic but an effort that shows you took the time to care about them. You can write one to your sweetheart in celebration of Valentine's Day. Or you can use the opportunity to send some love to family and friends who you haven't spoken to in a while.
5. Shop the Love
If you must buy a present for your Valentine, consider buying from small businesses. Buy eco-friendly and artisanal gifts from local businesses and boutiques in your area or online. Sites like Etsy are full of small business artisans here in the United States trying to share their beautiful handmade crafts with the world.
6. Support the Love
Lastly, try donating to a worthy cause. February is American Heart Month, and The American Heart Association continuously works to raise awareness for heart disease through its National Wear Red Day campaign on February 3rd. Consider donating to the American Heart Association Foundation or any charity close to your heart.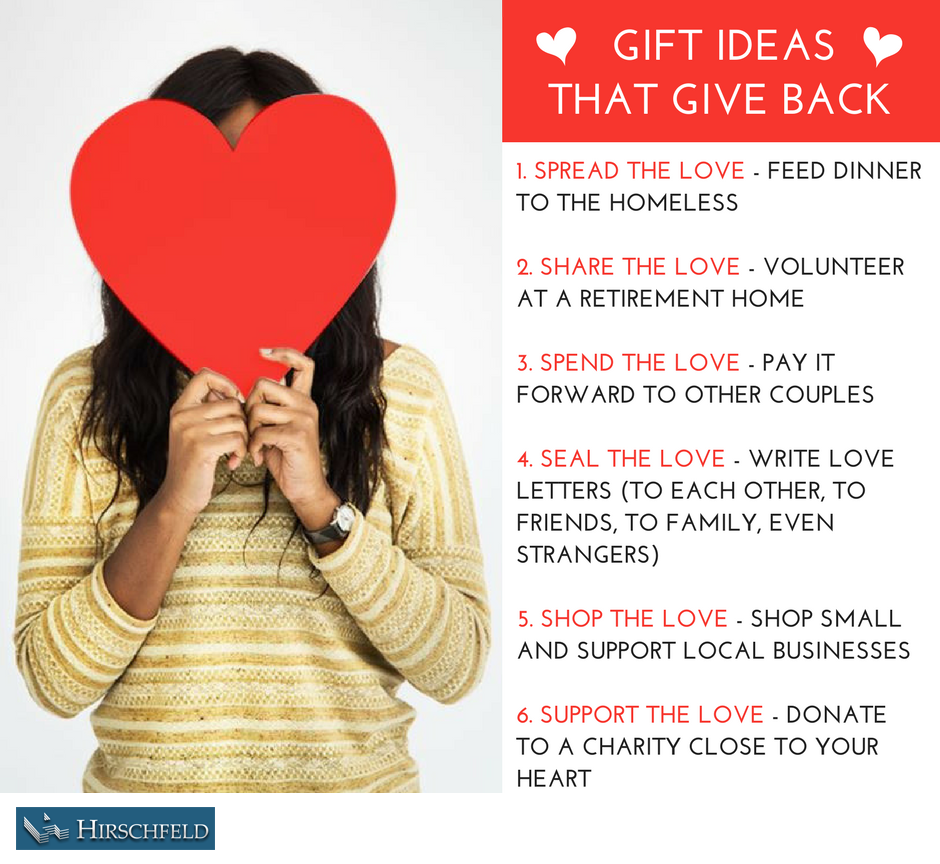 Happy Valentine's Day
We at Hirschfeld Apartment Homes in Maryland would like to wish everyone a happy Valentine's Day. We hope this list of ideas inspires you to give a little back this season.
Remember a little can always go a long way and you'll feel good about it too! So, rather than letting the commercial consumerism of this simple holiday overwhelm you, reach out to those you love or those in need of a little love and give the gift of giving back.
Happy Valentine's Day