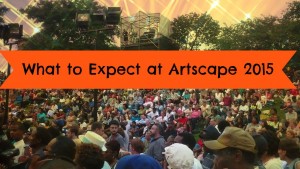 What to Expect at Artscape 2015
In the recent months, Baltimore has been in the news for all the wrong reasons. What many people respect about this city in Maryland is how we have taken this opportunity to rise above the animosity and moved on to bigger and better things. One of them is the annual Baltimore Artscape festival which will take place between July 17th and July 19th 2015.
What is Baltimore Artscape?
This event is one of the largest free arts festivals in the US today which has been in existence since 1982. Picture 3 days of displays and performances by more than 150 artistes, designers and performers with over 400,000 visitors expected to makes their way to Baltimore for this extravaganza. Everything from film to orchestra ensembles to demonstrations and even children's shows, visitors are bound to find something for them here. It is open to the public and will take place in Mount Royal Avenue & Cathedral Street, Charles Street, Bolton Hill, and Station North Arts & Entertainment District neighborhoods. Basically, most of Baltimore will come alive with all manner of the arts. The main theme of this year's event is Water'. Be sure to be plan ahead for the event to make the most of it.
What Events Will Take Place?
The events that will take place are split into 2 main categories – the visual arts and the performing arts.
In the visual arts category, some of the events include:
Lazy River which is an installation including sculptures and moving performances which is a tribute to how theme parks look and feel all over the world. There will be multiple artistes participating in this exhibition which will be at the Pearlstone Park, Preston Street at Cathedral Street.
Artist-Run fair which is a collection of all forms of painted, drawn or printed art by free artistes. This is the perfect avenue for upcoming artists to share their hard work.
The winner of the Fred Lazarus iV Artscape prize will have a chance to display their work. This is an award that is given to young high school artistes from Baltimore which includes a $1000 cash prize.
In the Neighborhood is an exhibition that is held in conjunction with local business where the public is encouraged to check out what their neighborhood is all about. It can include food and beverages to even yoga specials.
Kidscape is that space where the little ones get their hands dirty and explore their artistic skills. There will be pop-up entertainment to keep the kids and their guardians moving to the beat.
Other events include Storm Drain Murals, University of Baltimore presents Gamescape, Ebb and Flow, Misty Mountain Royals, Art Cars, Artists' market, Sondheim Artscape Prize and many other visual arts treats.
In the Performance Arts category, these are some of the events you will enjoy:
Concerts – These are national and regional artists on multiple stages.
Street Theatre – The public will get their dose of street theatre from upcoming artists and performers
LOL@Artscape – Time to tickle your funny bone at this performance
Pop-ups – This is a chance for visitors to dance in unison to the music
Artscape After Hours – This is the perfect time to let loose and enjoy the festivities
Aqualounge – The theme of the festival will take centre stage at this structure created by students of Morgan State University's School of Architecture and Planning
Dance at Artscape – Dance companies will share their prowess with visitors
Theatre, Jazz and Opera – Get to enjoy classical music this weekend
Baltimore Symphony Orchestra – They will perform with other non-professional artistes to the public
BGCA Culture Tent and Culture Fly – This is a showcase of Baltimore's vast arts and culture
And many other performance events
Is there a mobile App I can use to keep tabs on Artscape?
There is an app developed by Guidebook that keeps true to the Water' theme of the 2015 festival. You are able to keep tabs on events, create your custom schedule, navigate your way around the festival, access the Artscape social media platforms (Facebook, Twitter and Instagram) and keep the conversation going with the hashtag #Artscape2015, access In the Neighborhood' from a separate menu and also access all the necessary information about the festival. It is free and available for download here.
What Celebrities Will I bump into at Artscape?
This is a year to celebrate 30 years of Artscape as well as appreciate Baltimore and its people. One of the most pleasant surprises so far is the presence of the cast of The Wire', an acclaimed TV show. According to actress Sonja John, the cast reunion in Baltimore is all about celebrating the beautiful city and its inhabitants. Expect to see her alongside Dominic West, Michael Kenneth Williams, Wendell Pierce, Seth Gilliam, Chad L. Coleman, Larry Gilliard, Jr, Andre Royo, Gbenga Akinnagbe, Jaime Hector, Tristan 'Mack' Wilds and Felicia 'Snoop' Pearson. They will be at the Lyric Opera House in front of a 1,200 strong audience and it will culminate with a performance from a surprise musical superstar.
Other performers include George Clinton & Parliament – Funkadelic, Trombone Shorty & Orleans Avenue, Micheal Franti & Spearhead, Chopteeth, Tulani, Karter Jaymes, Bond Street District, April Sampe, Cris Jacobs Band and many others during the live performances. There will be different artistes at the Main stage, the North stage at John Hopkins University Station and the Sound off! Live festival. There will be something for everyone during the Artscape weekend, even a Billie Holiday 100th Birthday Salute by Integriti Reeves
A lot of the upcoming visual and performance artists who will share their talent with the visitors may be the future stars we speak of at the next Artscape so be sure to shake their hand and applaud their courage and skills.
For more Information?
To get more information about Baltimore Artscape, you can visit the official Artscape website here, check out their Facebook, Twitter and Instagram pages for updates and news and also follow the conversation at #Artscape2015 on all social platforms. In order to be able to have all this information at your fingertips, do not forget to download the Artscape App for free. Come and experience this festival like none other and remind yourself why Baltimore is so much more than the news.