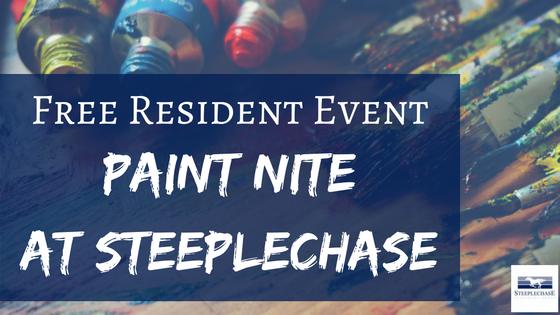 Paint Nite
Back by popular demand!
On February 23, the Steeplechase Clubhouse will host our latest Resident Paint Nite. Join Donna W. Lee as she brings Colorful Impressions Paint Nite to Steeplechase once more.
Steeplechase Paint Nite
This event is open to adults only and is free of charge. No need to be a professional artist, beginners are more than welcome. Painting instruction will be provided as well as a 16 x 20 canvas, paint brushes, and the use of aprons. Residents who chose to attend will enjoy a night of colorful fun with easy step-by-step instructions to create your very own masterpiece.
Painting is a great way to unwind and relieve stress. Plus, afterward, you can brag about your new painting skills to your friends and show off your work to the neighbors. We also encourage attendees to share their work on our Facebook page along with any photos highlighting the fun.
Paint Nite will be held from 6:30 – 8 p.m. and attendees are encouraged to BYOB!
Now is your chance to bring out your inner artist. Embrace your creativity and sign up for Residents Paint Nite by calling the office at (443) 666-0199. To reserve your seat make sure to RSVP no  later than February 15! We can't wait to see you there and all the beautiful pieces you'll create.
See You There
Paint Nite is just another example of our FREE monthly Resident Appreciation events. Other events include Party by the Pool, Breakfast-On-The-Go, and so much more. 
Steeplechase Paint Nite
Date: Thursday, Feb 23
Time: 6:30 PM – 8:00 PM
**Bring your own drinks ??
RSVP: By Feb 15