Summer 2016 Paint Nite at Eagles Walk
Get ready Eagles Walk Residents, it's time to get your paint on! On Thursday, August 18, we will host our first Resident Paint Nite with the talented Donna W. Lee of Colorful Impressions. There's no need for experience. No matter your level of ability, from beginner to novice, everyone will be able to create a beautiful work of art.
Did you know painting is a great way to relieve stress? Join us Thursday, August 18 from 6:00 – 9:00 PM for a night of relaxation and art. Embrace your inner artist. Painting instruction will be provided as well as a 16 x 20 canvas, paint brushes, and the use of aprons. Residents who chose to attend will enjoy easy step-by-step instructions and free refreshments. This event is open to adults only and is free of charge. Space is limited though, so you will need to RSVP. Call (443) 505-2239 to reserve your seat by Tuesday, August 9.
We can't wait to see everyone there! We also encourage attendees to share their beautiful paintings and photos of the event on our Facebook page. Feel free to check out the fun Steeplechase had with Donna for their Paint Nite.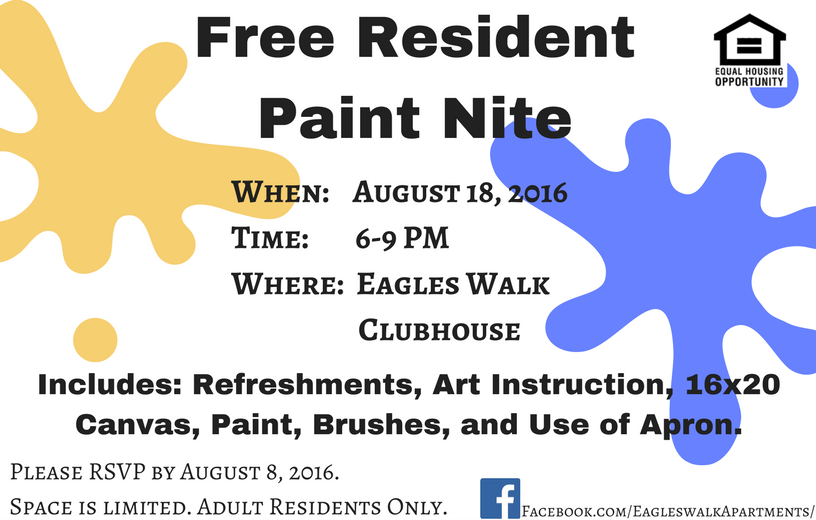 Paint Nite is just another example of the FREE monthly Resident Appreciation events at Hirschfeld Apartment Homes. Other events include: Popsicle Pop In, Breakfast on-the-go, and so much more.