Top 7 Reasons Why we Loved Facebook BINGO!
Based on all of the feedback we received, Facebook BINGO was lots of fun for our residents and a huge success all around! We would like to say a heartfelt Thank You to all who joined in on the game, commented on our Facebook pages and kept us updated on your BINGO status. We had such a great time with this contest and thanks to your amazing participation, we're thinking that we just might do another round of Facebook BINGO in the future!
1) Our residents rock, seriously they are the best!
2) We enjoyed seeing our residents interact with each other and with us (more on that in a moment) on Facebook!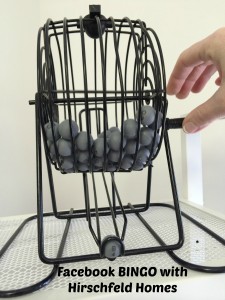 3) We have to admit, it was tons of fun spinning the BINGO wheel!
4) Did we mention how funny our residents are?  Seriously, we were smiling and laughing daily based on all of the posts.  Here is one of our favorites from a resident who commented about not having the best luck of the draw this time around: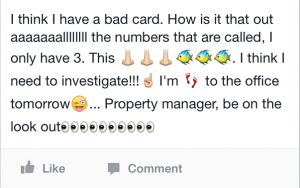 5) We had fun getting to know more about our residents.  As it turns out, some of you are REALLY big fans of BINGO 🙂
6) Did we also mention how sweet our residents are?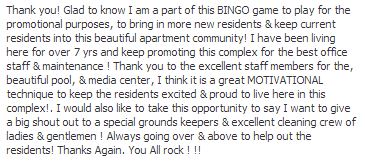 7) Last, but definitely not least, is the amazing feeling of being a part of the excitement when we have a winner come in to claim his/her prize!  Look at all of these smiles!!!!

Don't forget to check out our newest contest for May, "Spring Clean Your Balcony for a chance to win!"  See you on Facebook!!!!! 🙂