Fourth of July 2019 in Washington DC
Fourth of July is always bursting with fun in Washington, DC! Each year, DC celebrates Independence Day with a bang, and now you can too!
Visitors can celebrate America's birthday in dozens of venues and in a multitude of ways. So, keep reading for the full scoop on Fourth of July fireworks, parades, and festivals in and around Washington DC.
DC Fourth of July Celebrations
1. The National Independence Day Parade
Who doesn't love a parade? Line up along Constitution Avenue to observe DC's annual National Independence Day Parade. The Parade consists of marching bands, fife and drum corps, floats, giant balloons, equestrian, drill teams, national dignitaries, and celebrity participants! So, come on over and wave the stars and stripes between 7th and 17th streets in the National Parade, beginning at 11:45 on Thursday, July 4th.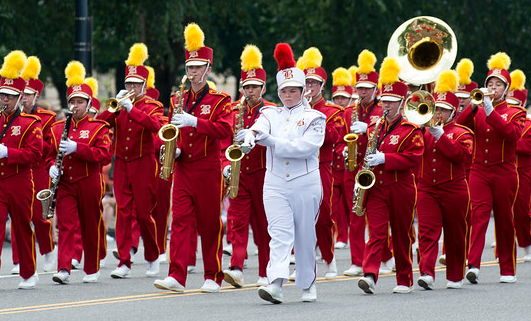 Photo credit: july4thparade.com
2. Baseball at Nationals Park
Spend the day enjoying America's favorite past time by watching the Nationals. Every 4th of July, the Washington Nationals play at Nationals Park with an 11:05 AM game to accommodate the Independence day activities throughout the city. This year, the Nationals take on the Miami Marlins. Expect an exciting game and a lively atmosphere at Nats Park for the early holiday game. 
Photo credit: mlb.com
3. Concert at the U.S. Capitol
Live from the Nation's Capitol, is an annual Fourth of July concert event like none other! A Capitol Fourth begins at 8: 00 PM and features a star-studded lineup of musicians and performances. Then, prepare to be blown away with the much-anticipated fireworks show over the National Mall.
The concert is broadcasted live on television and for internet viewing. You can also attend A Capitol Fourth for FREE! Admittance to the West Lawn of the U.S. Capitol will begin at 3:00 PM. For more info on attending A Capitol Fourth, check out this article from tripsavvy.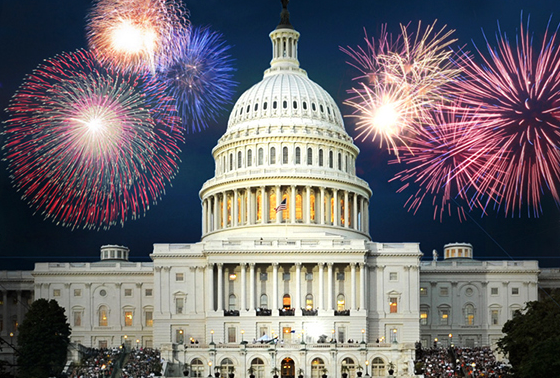 Photo credit: pbs.org
4. Fireworks at the National Mall
Independence Day in Washington, DC culminates with a spectacular fireworks display over the National Mall. The show starts at 9:07 PM and goes until 9:30 PM. The fireworks are launched from West Potomac Park and will be visible from many locations throughout DC. So, if you aren't able to make it to the National Mall, fret not. You can find excellent vantage points from many rooftop bars, sitting on the steps of the Lincoln Memorial, across the river in Arlington and many other places throughout the District.
For more on other viewing sites, visit 14 Great Spots to Watch the Fourth of July Fireworks in Washington DC.  

Photo credit: nps.gov
Additional Fourth of July Celebrations Near DC
5. An American Celebration at Mount Vernon
If you're in the Mount Vernon, VA area, be sure to check out one of the country's most patriotic celebrations. Celebrate Independence Day with daytime fireworks and military re-enactments at George Washington's Mount Vernon. This American Celebration is packed with activities and historical reenactments, and even offers free cake (while supplies last). Plus, enjoy a live performance by the National Concert Band.

Photo credit: mountvernon.org
6. Fourth of July Fireworks in Laurel
Or, for those in between DC and Baltimore, Laurel, Maryland also throws an exciting Independence Day celebration. The Laurel 4th of July Celebration is complete with a parade, car show, live music, field day competition, and fireworks. Get the full lineup of events from tripsavvy.

Photo credit: laurel4th.org
Happy Fourth of July
Happy Independence Day from all of us at Hirschfeld Homes Apartments in Maryland. We hope you enjoy the festivities!
For more Fourth of July fun, check out our guide to the Best Fireworks Displays in Baltimore, Maryland.