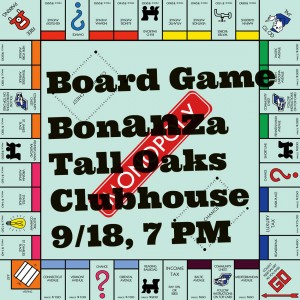 Residents Are Invited to Join us for Game Night
Tired of the monotonous grind of the work week? Looking to get your competitive juices flowing? Want to mingle with your fellow Tall Oaks residents? All of the above? Come on out to the Game Night at the Tall Oaks Clubhouse Thursday, September 18th from 7 to 9 PM!
Are you a card shark? Try your hand in a variety of card games! More of a financial whiz? We will be playing Monopoly as well. Put on your detective hat and sit down for a game of Clue, or get in touch with your mischievous side over Trouble. Uno and Guesstures are among the other games we will have for a night of friendly competition and fun.
Kids are welcome, as long as they're supervised by adults! Snacks and refreshments will be served, which is reason enough by itself to show up.
Game Night is for Tall Oaks residents only, so come on out on Thursday, 9/18 at 7 PM for a lively night of gaming!
Board games are a fun way to spend a Thursday night indoors, but if you are also interested in intrepid adventures this fall, check out our list of great fall activities in the Maryland/Virginia/Washington D.C. area.  To keep updated on new and upcoming events "Like Us" on Facebook!