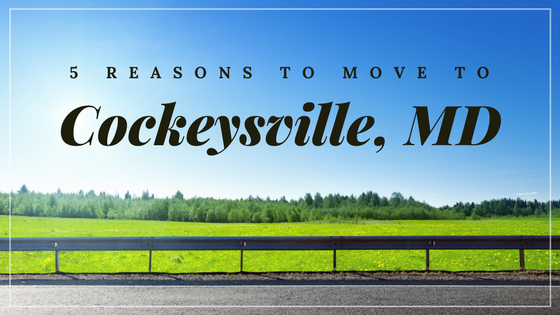 Reasons to Move to Cockeysville
Imagine the smell of fresh air and the sight of trees so green; only minutes away from City life. If you are looking for all of the conveniences of living near a big "Charm" city; yet close enough to all that nature has to provide – you need to learn about the wonderful Baltimore suburb of Cockeysville, MD!
You can go for a bike ride, hike to the pond, and when the sun goes down hop the train or take a short drive to enjoy the nightlife of the city of Baltimore.
If that sounds like a dream come true, then you need to move to Cockeysville, Maryland!
Cockeysville, Maryland is an excellent town with plenty to offer. It's a Best of Both Worlds place where you can enjoy peaceful, scenic suburbia but still be close to the nonstop vibrant city of Baltimore. It's also packed with places for shopping and dining as well as a medical and educational hub with a number of job opportunities nearby.
In this post, we share the top 5 reasons to move to Cockeysville today; including maps of the town and highlights of specific places and resources that make this the perfect place to call home, if you are looking for apartments in Cockeysville, we have you covered too.
5 Reasons to Move to Cockeysville
1. Back to Nature
It doesn't get more outdoorsy in Maryland than Cockeysville. One of the greatest things about this picturesque town is the gorgeous greenery and easy access to multiple nature trails and hotspots such as the ones listed below. Let's take a look at them.
This is a great place to go hiking and has a gorgeous pond in the woods. During the winter, it is also a fun spot to go sledding. It's the perfect place to spend the day outdoors with your family or to Zen out in alone. It usually isn't too crowded and is actually part of a larger Oregon Ride Nature Center with animals and activities.
This one is perfect for biking. It's also very big with plenty of different and beautiful sights and trails to see and experience. You can hike for miles, see the water, and go bird watching. This gem has been noted as one of the most pristine outdoor locations in the Baltimore area.
Stretching from Ashland Road in Hunt Valley to the Mason-Dixon Line, this trail is 10 feet wide with a stone dust surface. This trail even allows for horseback riding and provides access for fishing and tubing.
And for those of you who are pet owners, all 3 of these nature spots are popular places to bring dogs. Check out the map below to see a few other parks and nature trails as well as get a feel for where the 3 above fall on the Cockeysville map.
2. Convenient Shopping
Speaking of places nearby, Cockeysville is full of easily accessed shops, eateries, grocery stores, convenience stores, etc. Everything from name brand shopping to dollar stores, liquor stores, and salons, this is a convenient town that has everything you need close to home.
Located on Shawan Road, this shopping center features stores and services such as Marshalls, Sears, Wegmans, and a Regal Cinema. There's a SunTrust Bank and M&T Bank, along with an eye doctor and Verizon store. A few popular eateries include Panera Bread, Sub Zero Ice Cream, Chick-fil-a, and Chipotle. For a few list of restaurants and stores, check out their directory.
3. Food
You'll never go hungry in Cockeysville, this is an incredible town for wining and dining. We picked a handful of our favorite restaurants to spotlight.
Have you heard of Pappas crab cakes? They're not only the best in Maryland but in the whole country! Oprah Winfrey even named Pappas crab cakes one of her Favorite Things. This famous restaurant alone is enough to love living in Cockeysville.
Get your guacamole fix on at La Tolteca. For the best authentic Mexican dishes in town, this is the place to be. This vibrant and fun restaurant has the best fajitas and quite the tasty margarita. Plus, free chips and salsa, what's better than that?
Delicious, fresh poke bowls. Our personal fav is the "Hunt Valley Classic" with tuna, salmon, mango and edamame to name a few of the yummy ingredients.
And More…
Cockeysville, MD restaurants do not disappoint! Let us know your favorite spots.
4. Innovation & Research Hub
Additionally, Cockeysville has access to some of the top medical establishments in Maryland. With John Hopkins Medicine and the University of Maryland Medical Center nearby, along with a plethora of other innovative medical centers in the Baltimore area.
The John Hopkins Hospital, located in Baltimore and only minutes away from Cockeysville, is one of the nation's top-ranked hospitals and leading healthcare systems in the country.
Another major medical influence in the downtown Baltimore area, and also only minutes away from Cockeysville, is the University of Maryland Medical Center. It too is associated with its own hospital, noted for having more intensive care beds than any other hospital in Maryland, and a top-rated nursing school as well. UMSON's Bachelor of Science in Nursing Program Ranked No. 10 in the Nation!
If you or your loved ones are looking to attend college, Cockeysville is also close to Towson University, one of the nation's top public universities. While it too offers a nursing program, other academic programs also include healthcare management, computer science, information technology, molecular biology, biochemistry and bioinformatics, and much more. This is an excellent school for undergraduate and graduate studies.
5. Only Minutes away from Downtown Baltimore
If you're someone who's on the fence about giving up city life completely, no need to worry because you're still close to Baltimore. In Cockeysville, you get to enjoy all the pleasures of suburbia with easy access to the nightlife, job opportunities, and all the fun and exciting sights of Baltimore.

Cockeysville is the perfect place for Twenty-Somethings who want to live close to the city but also enjoy being outdoors. Life in Cockeysville offers the best of both worlds!
See You in Cockeysville
Are you ready to move to Cockeysville, Maryland? We hope these top 5 reasons encourage you to at least visit this amazing town.
Are you currently looking for a place to live in Cockeysville?
We at Hirschfeld Apartment Homes in Maryland have a luxurious apartment homes community in Cockeysville called Steeplechase. Steeplechase Apartment Homes in Cockeysville, Maryland is a pet-friendly apartment community with easy access to everything listed above. Check out life at Steeplechase by visiting our Facebook today!