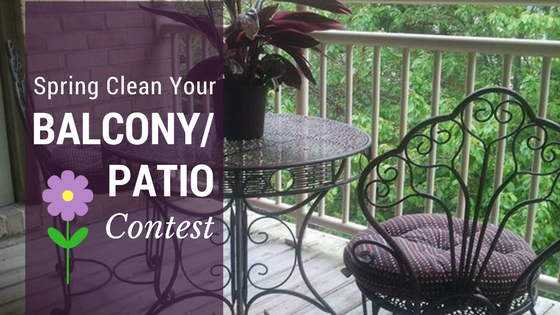 Steeplechase Spring Clean Your Balcony Contest
With all of the Spring Cleaning tips we have shared with our residents recently, it is now time for a new contest to keep the momentum going!
Residents of Steeplechase Apartment Homes in Cockeysville, are encouraged to enter the latest Hirschfeld Spring Clean you Balcony or Patio Contest. All you have to do to enter the contest is post pictures of your "Spring Cleaned" balcony or patio to the apartment home community Facebook page. The resident with the best photo will win a prize!

Contest Rules
This contest will last for the entire month of May, From May 1, 2017, – May 31, 2017. Before and after pictures are encouraged for the contest so before you start Spring Cleaning your patio or balcony, make sure you grab your camera or cell phone and take a few photos. Then, when you are finished, share your before and after snapshots with us on Facebook so we can see what how amazing your balcony/patio looks!  
The winner will be selected by the property manager.
Spring Cleaning Tips for your Apartment Home Balcony
Remove everything from the balcony and take stock of what you can get rid of and what you would like to keep. Old plants that cannot be salvaged or anything else that was lingering since before the winter are good targets for disposal.

Clean off the balcony wall and door, then clean the balcony floors using a stiff-haired broom. Make sure you also use a dustpan so that debris doesn't fall to other residents' balconies.
Clean the exterior walls of the balcony using a bucket with warm water and an all-purpose cleaning solution and a soft scrub brush. Once the walls are scrubbed down, remove the soap with a rag soaked in clean water. Wipe the walls down with a dry rag or let them air dry.

Now that the balcony floor is swept and the walls and door are cleaned, you can now go one step further and mop the balcony floor using a scrub brush and the same bucket filled with the all-purpose cleaner. To prevent water runoff, surround the edges of your balcony with old towels. Once finished, you can mop the floor with clean water to remove the soap from the floor.
For the full rundown on utilizing the above Spring Cleaning tips for your apartment home balcony or for more tricks like cleaning tougher stains, check out this very helpful article.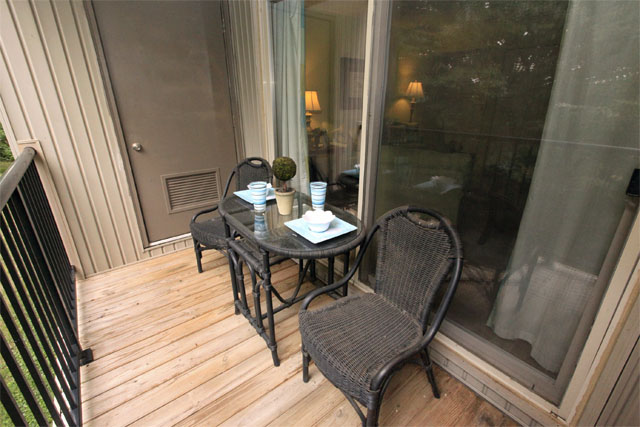 Decorating Tips for your Apartment Home Balcony
Try to keep it simple, but add a splash of color.  This will help to make room for you to sit and relax, while also bringing in the colors of spring with a splash of color.

Remember that flowers and a couple of beautiful pillows can do wonders to create a more welcoming space.

Also, you may want to consider a couple of brightly colors pots/ planters for your flowers, to add a level fun.
For some more inspiration and helpful tips please check out our newest board on Pinterest, "Balcony Decor Inspiration" Good luck to everyone who enters the April Showers bring May Flowers Contest and HAPPY SPRING!
*Facebook is in no way associated with this contest – but it's a great platform for us to share our Spring Cleaning photos!
**Steeplechase Residents only!