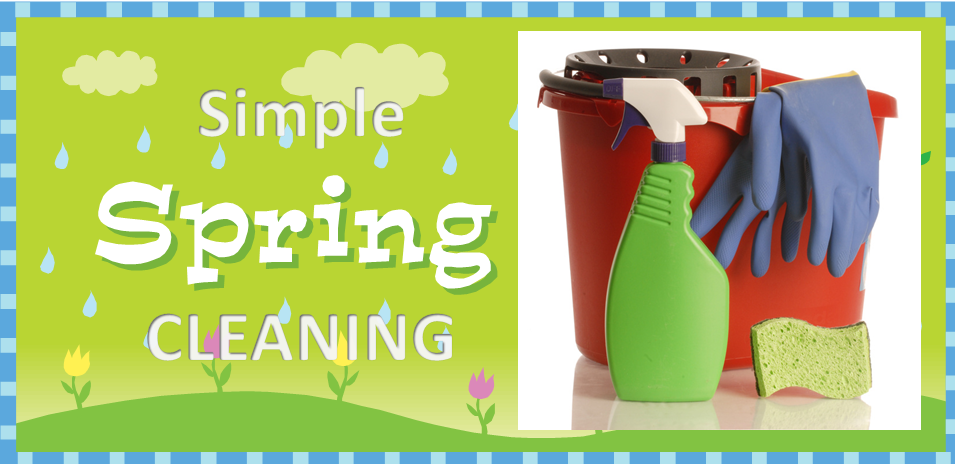 Spring Clean Your Apartment
What started out as an effort to help motivate everyone for Spring Cleaning; has quickly turned into a series for our residents (and anyone else who could use some help in motivating, organizing, and getting your apartment clean quickly.)  The goal here is to be outside!  How can we talk about being outside when we're writing about cleaning your apartment?  Simple… clean quickly, and efficiently so you aren't inside for any longer than you need to be!  Get outside and enjoy some fresh spring air and don't forget to stop and smell the flowers.
Here are a few (okay 11) helpful tips to get you started!  Before you begin don't forget to read our blog about "Preparing Your Apartment for Spring Cleaning."  This includes several helpful tips on how to make your spring cleaning day even more efficient.
Kitchen Tips
Before you begin going room to room, let's get some things cleaning themselves!
If you have a self-cleaning oven, get it started.  This can take hours and will be a great help to start this as soon as possible.  Also, place your knobs and drip pans in hot soapy water to soak.  These will be easier to clean later.
Have you cleaned your dishwasher lately?  Yes, it's necessary & very simple!  Make sure your dishwasher is empty, and place a dishwasher safe glass in the top rack, fill it with white vinegar, run on the hottest cycle.  After this cycle completes, sprinkle a cup of baking soda along the bottom of your dishwasher; run your dishwasher one more time – voila!  Thanks to One Good Thing by Jillee for the Great Tip.
Don't forget to also clean your microwave!  Pour one cup vinegar and one cup of hot water into a microwavable safe cup or bowl.  Place the cup or bowl into the microwave and set the timer for approximately 5-10 minutes.  CAREFULLY, remove the bowl, and wipe down with a wet rag!  Again, One Good Thing by Jillee to the rescue, with tips to clean the microwave!
Next up, let's clean out the cabinets/ pantry/ refrigerator.  It's time to rid your home of any expired food in your home and make room for the fresh foods of Spring and Summer.
Okay, your oven is cleaning itself, your dishwasher is running – Now let's get Going!
Here are a few more tips to make spring cleaning a little easier on you!
Let's start out our spring cleaning check list with cleaning your windows!  Nothing says Spring like the sunshine, the cleaner the windows the brighter your day right?  If you are looking for a GREAT product to clean windows & mirrors we highly recommend the "purple rags" from the FlyLady.  No cleaning supplies necessary, just some water and a purple rag for amazing windows, mirrors, and more! There are literally pages of great reviews for these rags, and many blog entries.  We are

NOT

, in any way, being compensated for this review; we just think they are amazing!
Declutter, declutter, declutter!!!!  Do you have a place for everything, and everything in its place? If there is too much "stuff" in your apartment, how can we possibly put it all away?  Try the FlyLady's, 27 Fling Boogie (no we aren't working for her, but yes, she has some GREAT ideas!) It's simple, grab a garbage bag and a donation box.  Start with the garbage bag and go through your apartment and find 27 things to throw away (don't forget to check those medicine cabinets, and sock drawers, and…) Now onto the Donation box, same thing here.  Don't think about it too long.  If it doesn't fit, make you feel amazing, or you don't love it; donate it to someone else!  You can do this as often as needed; not just in the Spring.  Keep this in your routine weekly until your home is clutter free.
Don't forget to clean your Ceiling Fans & Light fixtures.
Reader's Digest has another great list of items to check off your to-do list; including washing your walls, cabinets, and baseboards.
Things to Keep in Mind While Cleaning
Always clean your surfaces from top to bottom, this way crumbs from the table don't end up on the floor and dust from the ceiling fans don't fall on your freshly dusted cabinets.
Clean your floors from the farthest corner and work your way to the door.
Don't forget to take breaks, stay hydrated, play some great music and have fun!
Still want some more? Check out, Spring Cleaning Tips on How to Save Money and the Environment
HAPPY SPRING EVERYONE!!!